City Staff from the San Francisco Planning Department have published a preliminary project assessment, providing some feedback and a cautiously optimistic outlook for the fate of the skinny pod hotel proposed for 12 Mint Plaza in SoMa, San Francisco. The project will be built on a 0.04- parcel between two existing buildings of similar height. Elsey Partners is responsible for the development.
While the assessment points out areas of the proposal that do not comply with the city code, it states there are pathways for Elsey to easily redesign the project. The assessment states the development will require conditional use authorization to operate the hotel in the C-3-G zoning area. The team will also need to apply for approvals with Transfer of Development Rights Downtown Project authorization, among others. The Transferrable Development Rights will allow the project to build to a maximum 9-to-1 FAR, greater than the zoning's 6-to-1 allowance. The project will also need to include Privately-Owned public open space, or POPOS, and bicycle parking.
Demolition will be required of the existing 29-foot tall two-story building, which spans 5,300 square feet.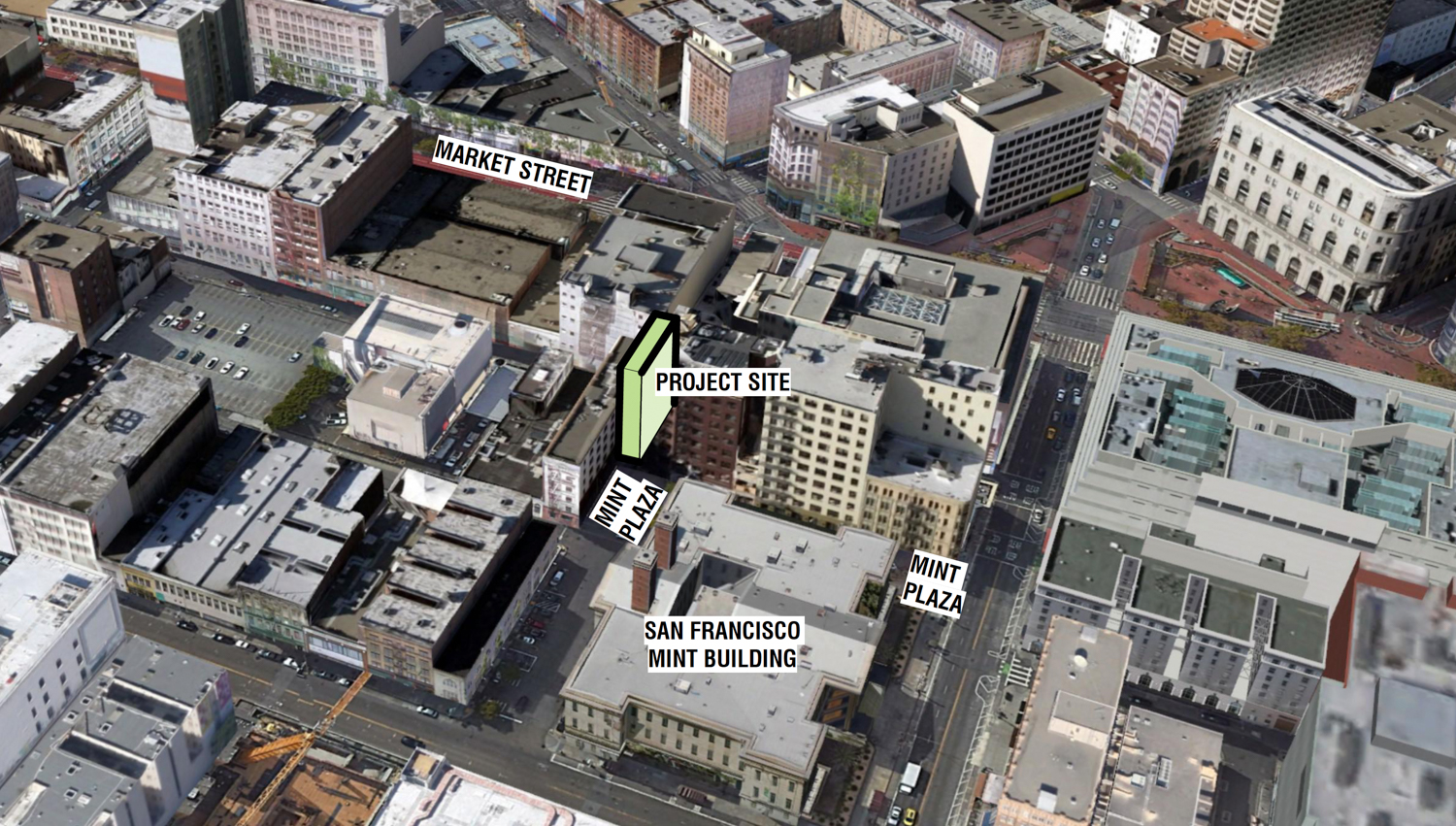 12 Mint Plaza view north from Mission Street, illustration by Prime Design
As originally proposed, the 85-foot tall hotel will yield 16,250 square feet across two basement levels and the eight floors above ground. There will be 4,120 square feet for guest rooms, 6,110 square feet for common areas, and 5,440 square feet for the circulation area. The bar and breakfast cafeteria will be included on the top floor, providing a communal area with views toward neighboring 5M and the former San Francisco Mint building from the 740 square foot open-air deck.
The project architect is Prime Design, a San Francisco-based firm. According to the project narrative, Prime Design's project will be "combining minimalist guest spaces with generous boutique amenity spaces." The project will be geared towards single travelers on a budget. The design is inspired by pod-style hotels first built in Japan.
The proposal will be subject to review for the California Environmental Quality Act.
Construction is expected to cost $8.4 million, an estimated figure that does not factor in all development costs.
Subscribe to YIMBY's daily e-mail

Follow YIMBYgram for real-time photo updates
Like YIMBY on Facebook
Follow YIMBY's Twitter for the latest in YIMBYnews