Avenues: World School is best known as the school where each student will get a MacBook and an iPad. Since it started in New York City in 2012 with admission fees for K-12 rivaling college, it has expanded to Brazil and Shenzhen. Now, the high-end private school is planning a new campus in the heart of Silicon Valley. Renderings reveal the proposed 547,459 square-foot campus at 550 Meridian Avenue, San Jose.
The project will include a mixture of new construction and renovation of existing buildings. Over 210,000 square feet of space will be demolished to make way for purpose-built structure. Developers will readapt two office buildings at 550 and 570 Meridian Avenue into classrooms, daycare centers, a dining hall, and a black box theater. A parking garage will be retained and continue its use as a garage.
The proposal breaks down that the 458,155 square feet will be divided among seven buildings. Construction is expected to proceed in three phases. Phase one will construct a soccer field and buildings 1-4, with combined square footage of 183,666 square feet. Phase two of construction will extend landscaping from Meridian Avenue around to Parkmore Avenue and construction building 6, which rises five stories high to produce 129,750 square feet. The final phase will complete buildings 5 and the 120-foot building 7, and space for 642 vehicles and 751 bicycles. These other buildings will include basketball courts, student commons, lounges, laboratories, and a competition-length pool.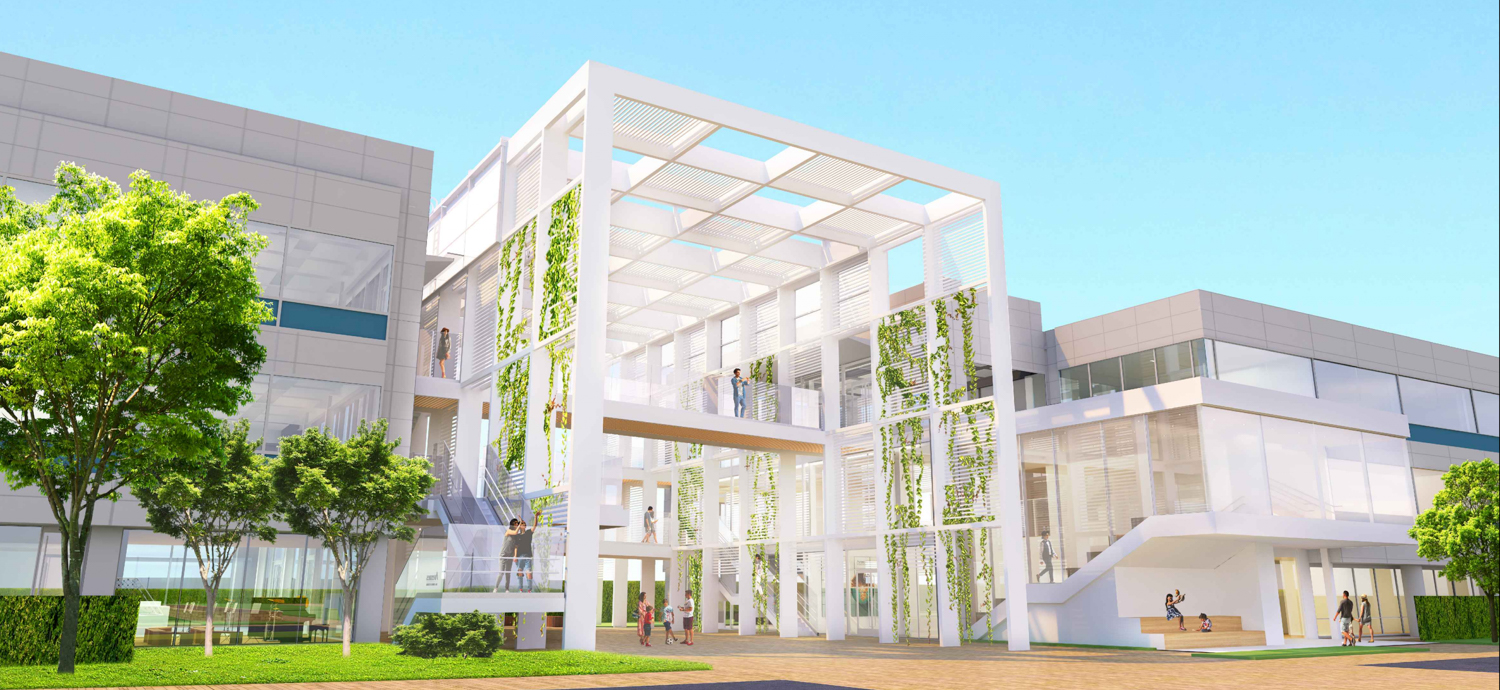 Efficiency Lab for Architecture is responsible for the design, with Kimley-Horn in charge of landscaping. While much of the renderings suggest a mix of rectangular floor-to-ceiling windows, the architectural centerpiece is between buildings 1 and 2, dubbed 'Portal.' The Portal is a four-story white geometrical awning. Its prominence and scale make it a natural landmark and meeting spot for the large school.
Once complete, Avenues projects that the new location could host as many as 2,744 students with 480 faculty. As with other campuses, its education program ranges from toddler daycare through 12th grade, ages between two and eighteen.
The site will be near the existing Rapid 523 line and the Green Line, which runs through Downtown San Jose, while a transit ride to downtown San Francisco would take nearly two hours.
An estimated completion date has not been announced. Avenues did not respond to comment.
Subscribe to YIMBY's daily e-mail

Follow YIMBYgram for real-time photo updates
Like YIMBY on Facebook
Follow YIMBY's Twitter for the latest in YIMBYnews