Recent filings have resurfaced the proposed 575-unit residential and transit hub development of Potrero Yards at 2500 Mariposa Street, Mission District, San Francisco. A memo to the historic preservation commission shows that the SFMTA is planning for how to proceed without or without approval to demolish a two-story 1915-built structure on site. If fully approved, the project would yield over 1.3 million square feet.
The 575-unit structure is projected to stand about 150 feet tall, making it stand out from its neighbors. The height will be distributed among thirteen floors. The new building would have approximately 1.3 million gross feet of space. Of that space, 33,000 will be designated for commercial space and 544,000 square feet for the residential area. The retail space would be located along Bryant Street.
The bottom three levels will be for a new and improved Potrero yard. This portion of the structure will stand seventy-five feet tall, while the multifamily space above will increase the height to 150 feet. Three hundred ten vehicle spaces will be provided in the project. Sixty-three parking spots are for 40-foot long busses, 150 places for 60-foot articulated busses, and 97 spots for other vehicles not used for revenue service.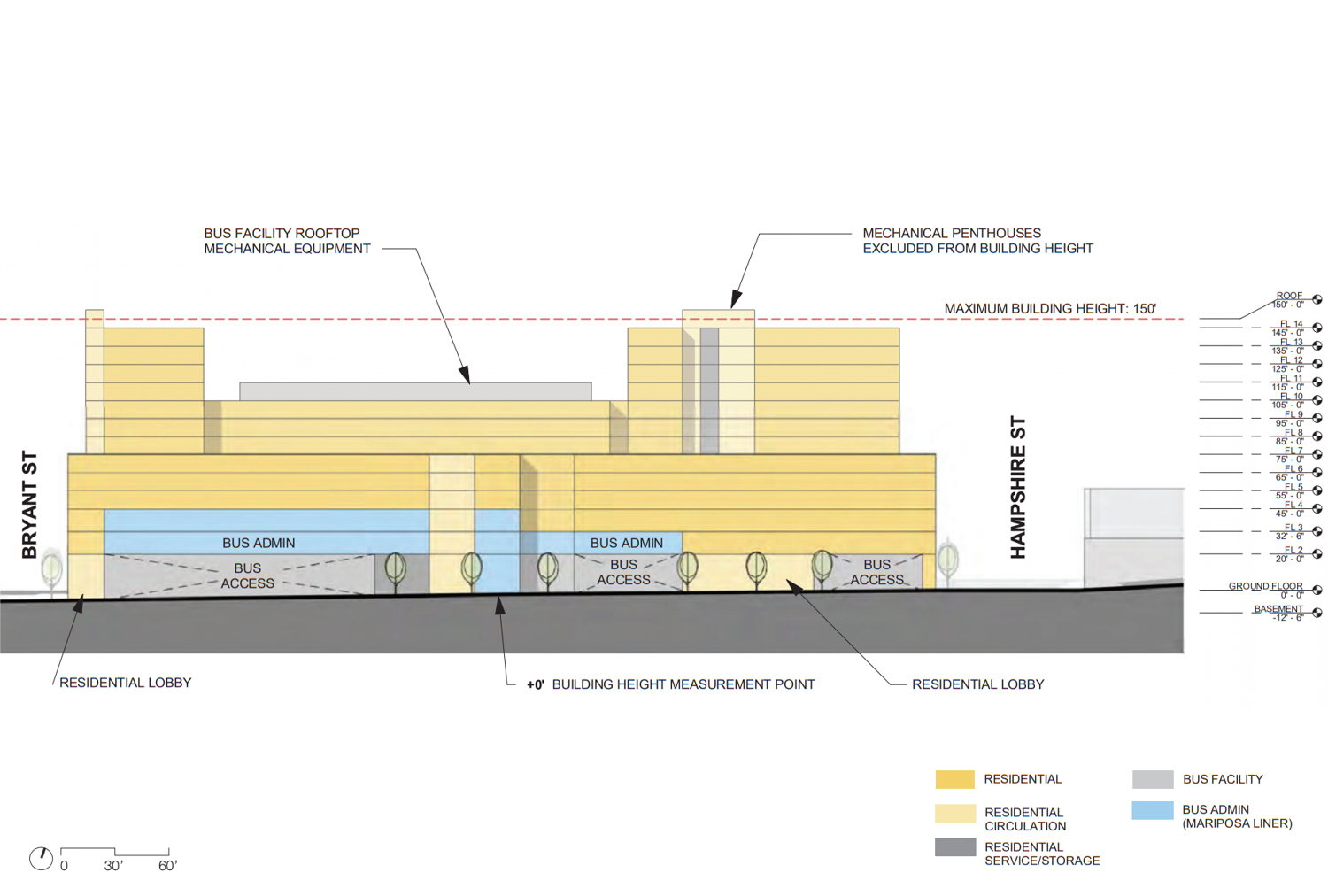 The current structure to be replaced stands two floors tall and has around 728,000 square feet of space. The structure to replace it will be much larger and include retail and commercial space in addition to a modernized transit yard. The project's massing shows just how sprawling the structure will be, with many wings coming off of the residential portion and the transit podium filling the entire block.
Atop the roof, an open space will be constructed and will be usable as a multipurpose space, giving residents the option between the rooftop and nearby Franklin Square. The site is between Bryant Street and Hampshire Street. As one might expect around a MUNI Metro depot, there is plenty of transit connections nearby. The project also has a pleasant nearby green space, as Franklin Square is adjacent to the site.
The proposal will be held in front of the Planning Commission hearing tomorrow. Click here to learn more about the event. The SFMTA estimates that the project will take three to four years the complete. They are targeting to have groundbreaking in 2023 and occupancy as early as the end of 2026.
Subscribe to YIMBY's daily e-mail

Follow YIMBYgram for real-time photo updates
Like YIMBY on Facebook
Follow YIMBY's Twitter for the latest in YIMBYnews