The Chicago-based Oxford Capital Group has an extensive portfolio of hotels across the country, including San Francisco's ornate Sir Francis Drake Hotel. Now, the firm has announced they are increasing their presence in the Bay to nine properties following the purchase of three hotels in San Francisco, one in Palo Alto, and another in Los Gatos. Details about the sales are not released, and public records are not updated.
The oldest structure purchased by the Oxford Capital Group is the Hotel Griffon at 155 Steuart Street, along the Embarcadero half a block from the SOM-designed One Steuart Lane. The hotel first opened in 1906 and has 62 rooms, some meeting space, and Perry's restaurant. The building last sold in 2006 for $14.75 million, with the last city assessment at $16.6 million.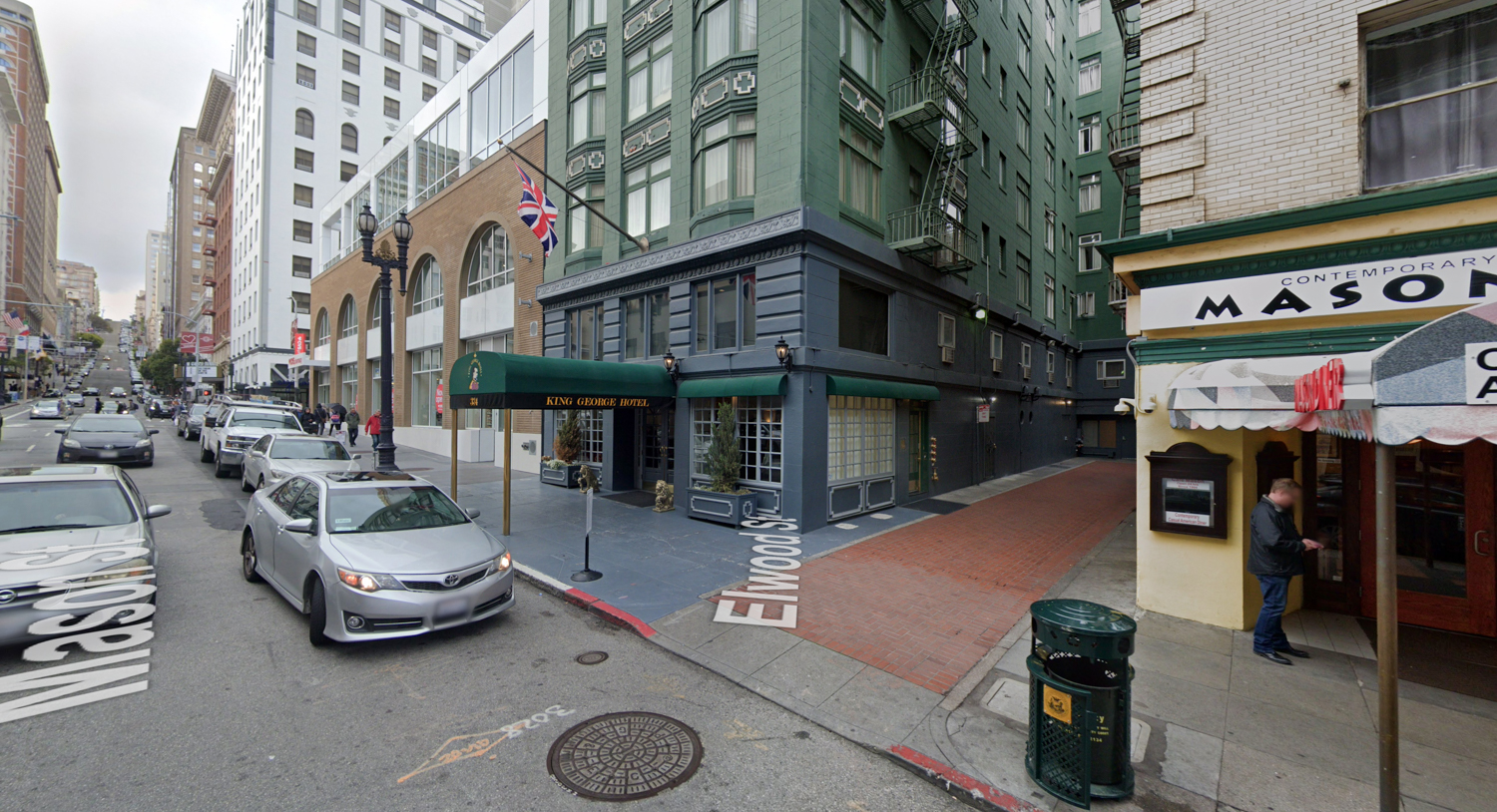 The second oldest, King George Hotel at 334 Mason Street, is one block southwest of San Francisco's Union Square. The lodging opened in 1914 and now gives Oxford Capital 153 hotel rooms and a lobby bar. The property last sold in 1996 for $11.85 million and was last assessed to have a value of $17.6 million.
The remaining San Francisco structure is the 1980-built Inn at Union Square at 440 Post Street, offering thirty rooms on Union Square's northwest edge. It last sold in 2004 for $3.6 million, equivalent to the 2019 listing for Governor Gavin Newsom's childhood home in San Francisco. It is now valued at $4.6 million, equal to a 2004 federal funding grant to solve endemic homelessness in San Francisco.
The Creekside Inn at 3440 El Camino Real, Palo Alto, includes 136 rooms, retail, and dining. Lastly, the 2002-era Hotel Los Gatos at 210 East Main Street, Santa Clara County, offers 72 guest rooms, and a Michelin-rated restaurant. The hotel is opposite the Los Gatos High School, abutting a forested area with nature preserves and the Big Basin Redwoods State Park
Sarang Peruri, chief operating officer of Oxford Capital Group, LLC and partner of Oxford Hotels & Resorts, LLC, said of the purchase, "these properties are poised to outperform given unique product offering and locations with historically attractive business, leisure, and group demand. We plan to leverage our track record in owning and managing distinctive urban lifestyle hotels as we navigate through these unprecedented times and hopefully head towards normalcy in the coming months and years."
John W. Rutledge, founder, chairman, and CEO of Oxford Capital Group, LLC and Oxford Hotels & Resorts, LLC., expressed optimism for the move, exclaiming, "This is a compelling portfolio of assets in strong locations and submarkets, conservatively leveraged, that we were able to secure at a particularly attractive basis. Despite the current challenging environment in the travel and hospitality space, we remain sanguine about the medium to long-term desirability of downtown San Francisco and Silicon Valley. We believe these attributes will result in a successful outcome for ourselves and our investors."
Subscribe to YIMBY's daily e-mail

Follow YIMBYgram for real-time photo updates
Like YIMBY on Facebook
Follow YIMBY's Twitter for the latest in YIMBYnews