Plans for a 622-foot office tower at 415 20th Street are heading to the Oakland Design Review Committee on January 27th. If it is built as proposed, the tower will become the tallest skyscraper in Downtown Oakland and the tallest building in California to not be in Los Angeles or San Francisco. The review requests permit approval for the design, conditional use for a large project, and variance for the maximum setback. Ultimately, the Oakland Planning Commission will make the final decision. Hines is backing the proposal, working through 415 20th Street LLC.
Kendall Heaton Associates is the architect of record, with Pickard Chilton listed as the design consultant. The proposal offers a familiar mid-Century style skyscraper with a 21st-century twist at the ground-level and sixth-level terrace. By dividing the tower at the base and sixth-level, the building achieves a striking visual aesthetic of a tower that seems to float. While renderings do not offer a detailed look, planning documents show a solid grey and transparent black glass to cladding the skyscraper, with accents in exposed aluminum.
Technically rising 622 feet and six inches, the 38-story high-rise will yield 862,050 square feet for office use. The ground level will offer a sizable two-story lobby space connected to a landscaped courtyard for public use.
Thirty elevators will help bring people up and down the project, twenty-four of which will be dedicated to office use. Eight are going to the low-rise section, another eight to the mid-rise area, and the final eight to the building's high-rise section.
Two exterior elevators and a few designated office elevators will bring workers and pedestrians to an open-air landscaped terrace on the sixth level, providing remarkable views toward the Bay Bridge and San Francisco skyline. OJB Landscape Architecture will be responsible for the diverse gardening decorations installed on-site.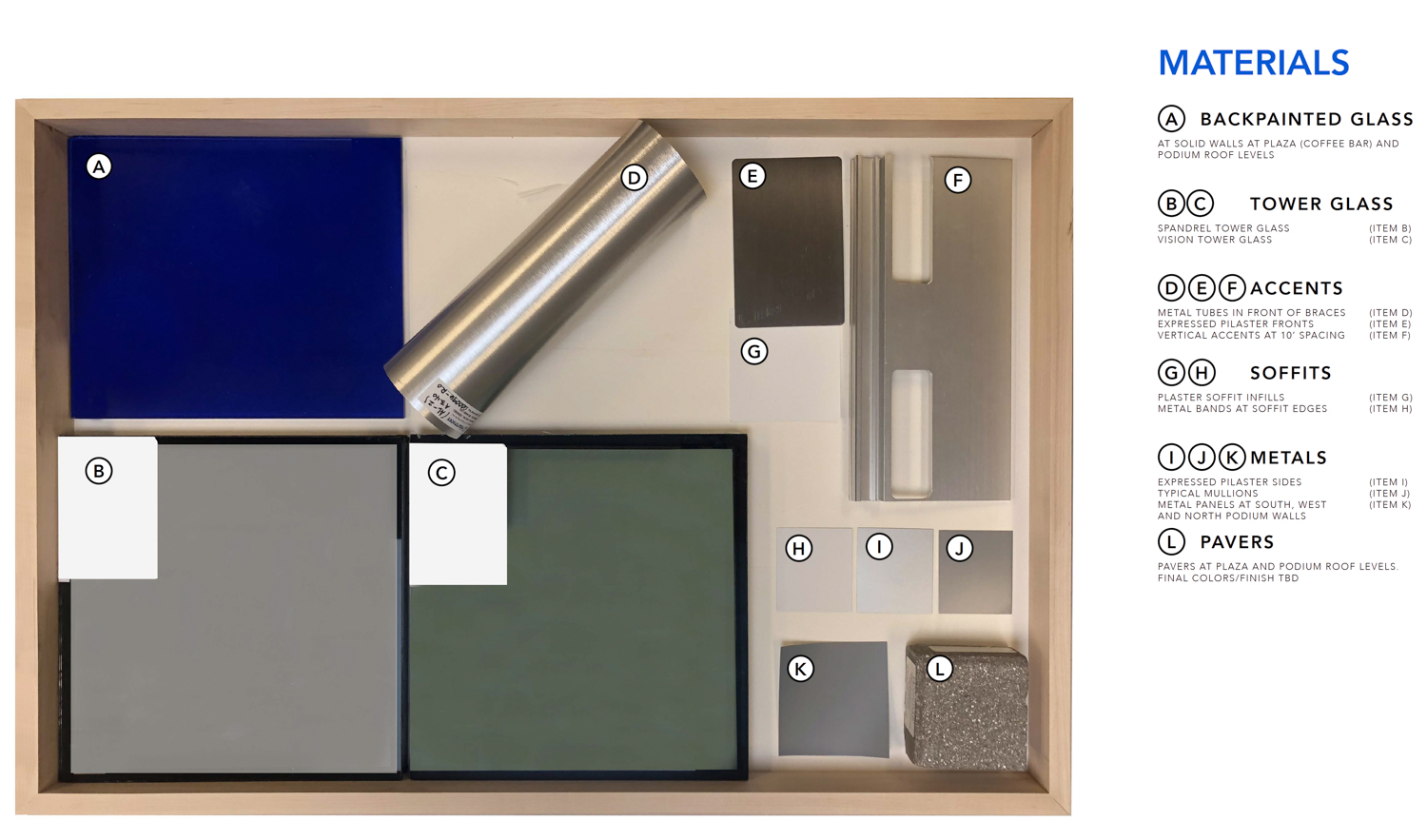 The building is ideally located less than a block from the 19th Street Oakland BART station for transit. Parking will be included for 108 bicycles, paired with sixty lockers and fourteen showers. Parking for 262 vehicles will be placed in the third, fourth, and fifth levels.
Moving forward to the January 27th meeting, more details are expected to be released for the project. Readers can expect a follow-up story. For information to join the design review, held between 3 pm and 5 pm, details including the Zoom link can be found on the city website here.
Subscribe to YIMBY's daily e-mail

Follow YIMBYgram for real-time photo updates
Like YIMBY on Facebook
Follow YIMBY's Twitter for the latest in YIMBYnews