New renderings have been published for a six-story residential infill at 1201 San Pablo Avenue, bringing market-rate and affordable housing to a low-density neighborhood in Northwest Berkeley. The project will replace a vacant lot with 66 new homes. Lanhai Su of Jianyi Investment Development Inc., based in Santa Clara, is listed as the property owner.
The 68-foot tall structure will yield 53,620 square feet, covering most of the 12,060 square foot lot, with 44,470 square feet for residential use, 1,720 square feet for ground-level retail, and 6,580 square feet for the 17-car garage. Residential amenities will include 2,510 square feet of open space.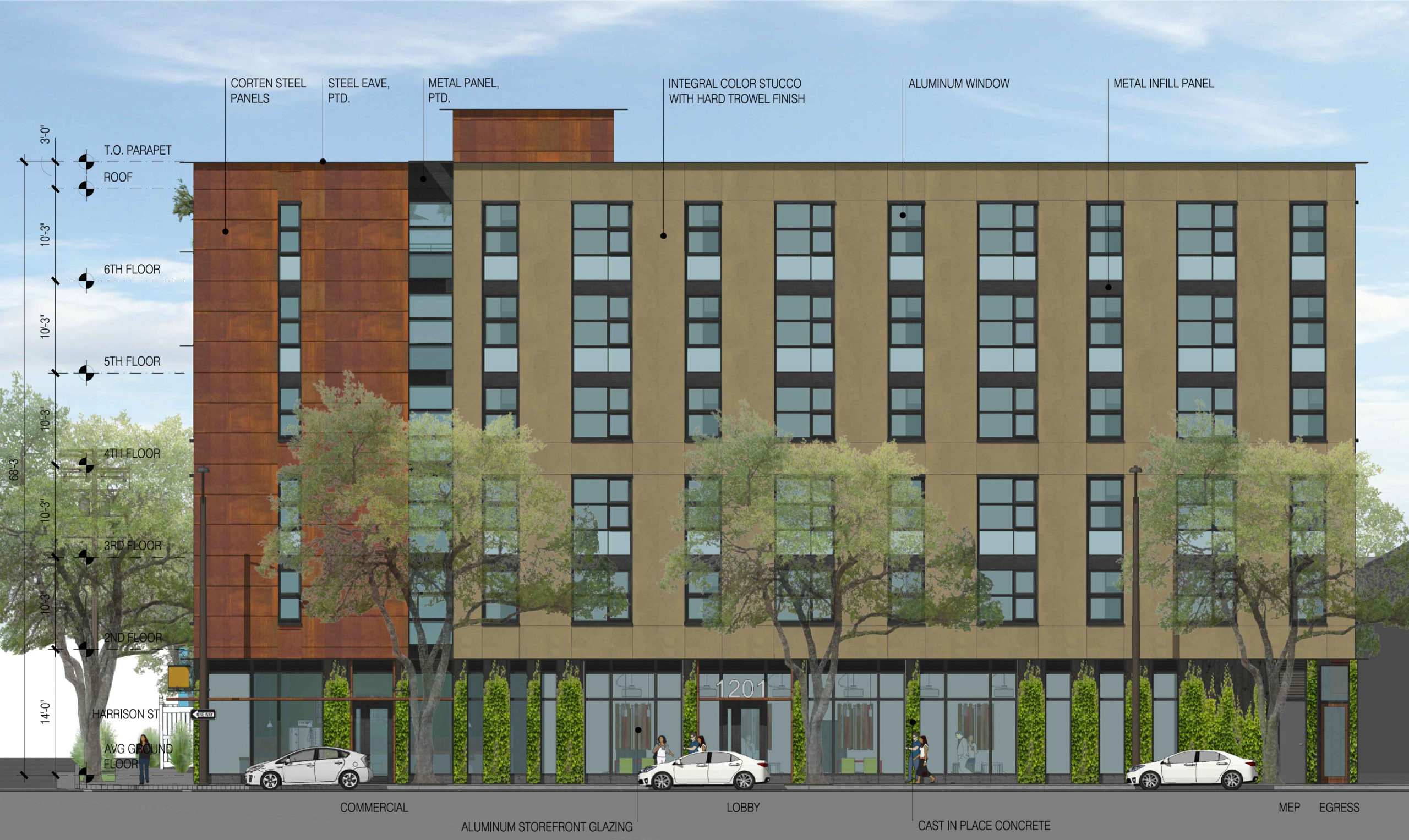 Trachtenberg Architects is responsible for the design. Facade materials will include weathered corten steel panels, integrated stucco, and metal panels. Corten steel is an expensive and popular facade material known for its characteristic texture, giving the appearance of years of aging even for a new building. The Miller Company is responsible for the landscape architecture.
The developer is making use of the State Density Bonus, including five very-low-income housing units while increasing the overall residential capacity. The project will also benefit from Senate Bill 330, which states that it "prohibits a local agency from disapproving, or conditioning approval in a manner that renders infeasible, a housing development project for very low, low-, or moderate-income households or an emergency shelter unless the local agency makes specified written findings based on a preponderance of the evidence in the record."
The project is bound by San Pablo Avenue, Harrison Street, Kains Avenue, and Gilman Street. San Pablo is a primary commercial thoroughfare, with a bus stop serviced by several AC Transit lines less than a block away. Residents will find several shops, cafes, Blick Art Materials, and two grocery stores in close walking distance. The North Berkeley BART Stop, connecting residents with the whole region, is 12 minutes away by bus.
An estimated cost and timeline for construction have not yet been established.
Subscribe to YIMBY's daily e-mail

Follow YIMBYgram for real-time photo updates
Like YIMBY on Facebook
Follow YIMBY's Twitter for the latest in YIMBYnews