Plans for the tallest development in the Bay Area outside of San Francisco have passed a new milestone. Demolition permits are filed for the four-story structure at 415 20th Street in Downtown Oakland. The property is where Hines has proposed a 39-story office skyscraper, with design by architecture firm Pickard Chilton.
The 1.03-acre parcel currently contains around 82,900 square feet of office space in the existing four-story structure, along with surface parking and a single-story accessory structure. The offices are occupied by Oakland Scientific facility, which gives laboratory space for Lawrence Berkeley Laboratory. City records list the Regents of the University of California as the former property owner.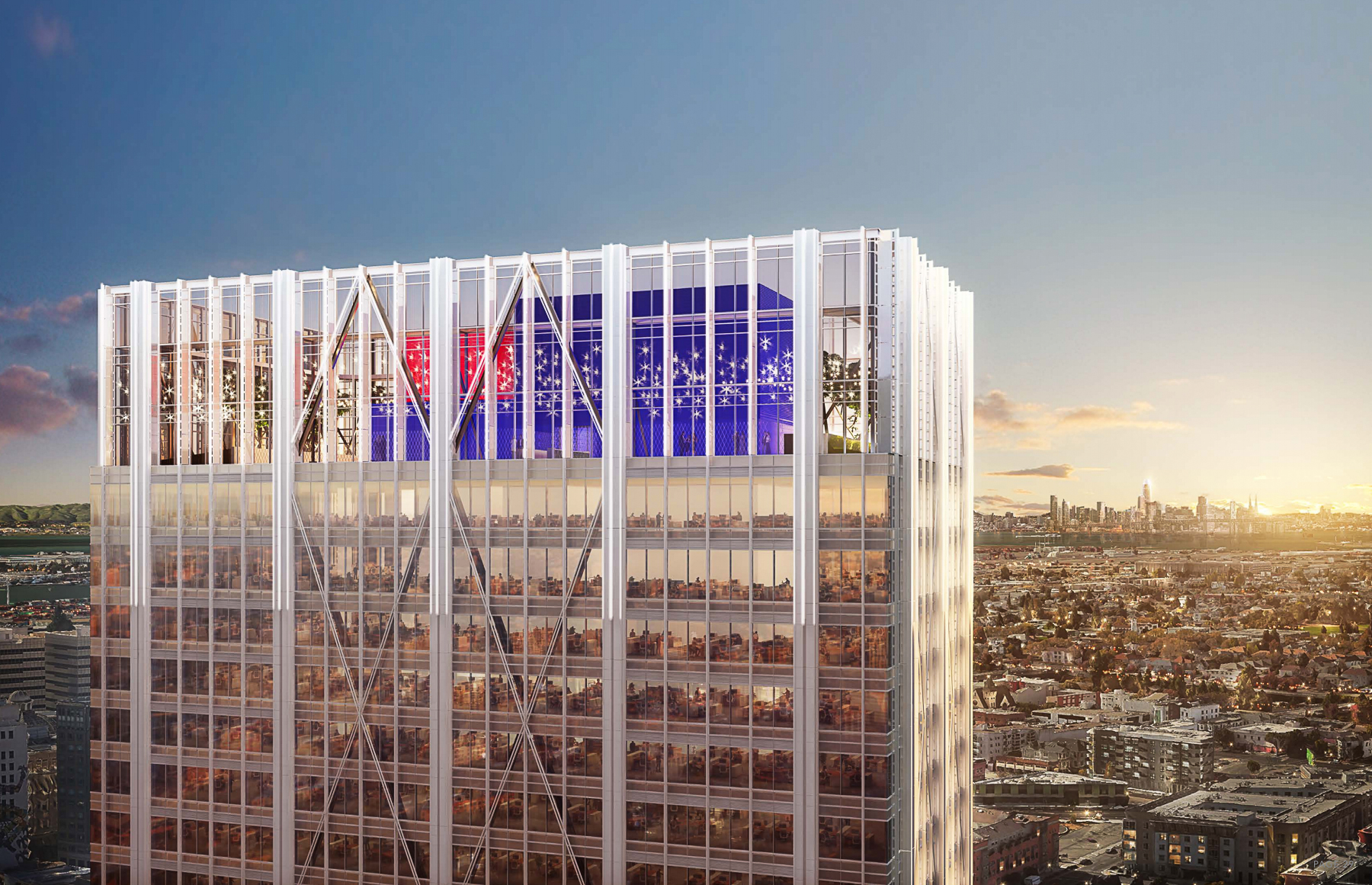 415 20th Street rooftop crown view, rendering from Hines
Plans for the 622-foot tall tower will yield over a million square feet of floor area with 897,950 square feet for office space, 2,280 square feet for retail, and 149,090 square feet for the 262-car garage.
415 20th Street showcases the work of the design architect Pickard Chilton. The firm has made use of protruding mullions, bold metal columns rising up the full length of the tower, and an X-brace motif creating functional decoration over the floor-to-ceiling curtainwall system.
The tower will rise above a podium-topping POPOS, a double-height area carved into the building. The POPOS will offer the public an elevated view of the city with landscaping and outdoor furniture. The future tenant of 415 20th will have the option of making the rooftop deck open to the public or a private employee amenity. If it is open to the public, it will be the highest public observation deck in the Bay Area for as long as the Salesforce Tower remains closed.
Kendall Heaton Associates is the architect of record, with OJB Landscape Architecture responsible for the decks and streetscape.
The parcel is less than a block from the 19th Street Oakland BART station and three blocks from the city's centerpiece park, Lake Merritt. Documents show construction will take 32 months to complete, or roughly 2 years and eight months. The building is on the same block where the Behring Company is currently building 1900 Broadway, a 39-story residential tower.
The proposal was approved by the Oakland Planning Commission in May of 2021. YIMBY has contacted Hines to ask about the estimated timeline for when demolition and excavation will start.
Subscribe to YIMBY's daily e-mail

Follow YIMBYgram for real-time photo updates
Like YIMBY on Facebook
Follow YIMBY's Twitter for the latest in YIMBYnews