A preliminary application has been submitted for a church building proposed for development at 2800 Mission College Boulevard in Santa Clara. The project proposal includes site improvement, new facade development, and interior changes to a church, Our Lady of Peach Church & Shrine.
The project site is composed of two parcels. The project proposes a new design of a church building to seat 1,164 people at one time. The new design reflects in the façade that this is the House of God. The interior fosters contemplation and transcendence. The design is to accommodate perpetual adoration, Catholic liturgies, and Marian processions and devotions.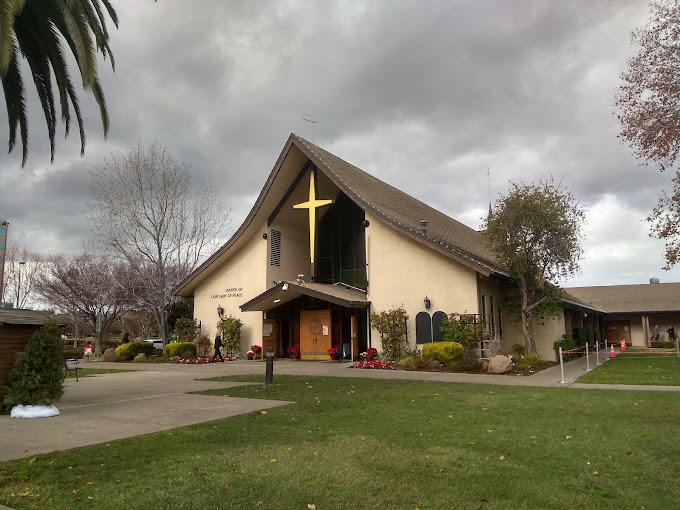 Our Lady of Peace Church also hosts a thirty-two foot statue of the Immaculate Heart of Mary. The site also has a large gift shop and family learning center. The church is a parish of the Diocese of San Jose that is currently staffed by the Institute of the Incarnate Word, both priests and sisters.
Construction in the first phase proposes a new church spanning an area of 26,000 square feet, a one-level-plus-mezzanine choir loft, new convent of 5,930 square feet, with a total built-up area spanning 3,997 square feet.
A new garden, new equipment pit. garden arcade, parking lot, and EV parking spaces are also proposed. Construction in the second phase will bring a parish center spanning an area of 23,760 square feet and a maintenance building of 1,000 square feet. Parking for a total of 366 vehicles will be provided on the site.
Site and other building improvements are proposed in phases; the majority of the improvements take place on the north parcel.
Subscribe to YIMBY's daily e-mail

Follow YIMBYgram for real-time photo updates
Like YIMBY on Facebook
Follow YIMBY's Twitter for the latest in YIMBYnews