New elevations reveal plans for a tower at 35 South Second Street, Downtown San Jose. The starchitect Bjarke Ingels Group (BIG) is behind the design, which has a striking resemblance to a pair of trousers. The 289-foot tower will provide a large quantity of residential, office, and retail space around the corner from the future BART station and historic Bank of Italy Tower. Vancouver-based Westbank Corporation is developing the project.
The 21-story project yields a combined 741,000 square feet and four levels of underground parking. The ground level will make space for the residential and office lobbies, maintenance related functions, and 31,960 square feet for retail. The next ten levels will produce 303,220 total square feet for residential use. The 194 units will offer a mix of one to two-bedrooms. Topping the building are ten stories of offices, 405,920 square feet. Shared balconies will be dotting these upper floors to benefit office workers across the top floors, while the rooftop will produce a large offering of open space.
Detailed renderings are not available to show how the full building is expected to look. Fortunately, planning documents reveal a significant amount of information. We know the tower will be wrapped with a louvered facade over curtainwall glass. Detailed cross-section drawings depict the terracotta shading curving around trees and shrubbery, making for an organic flowing appearance out of static material.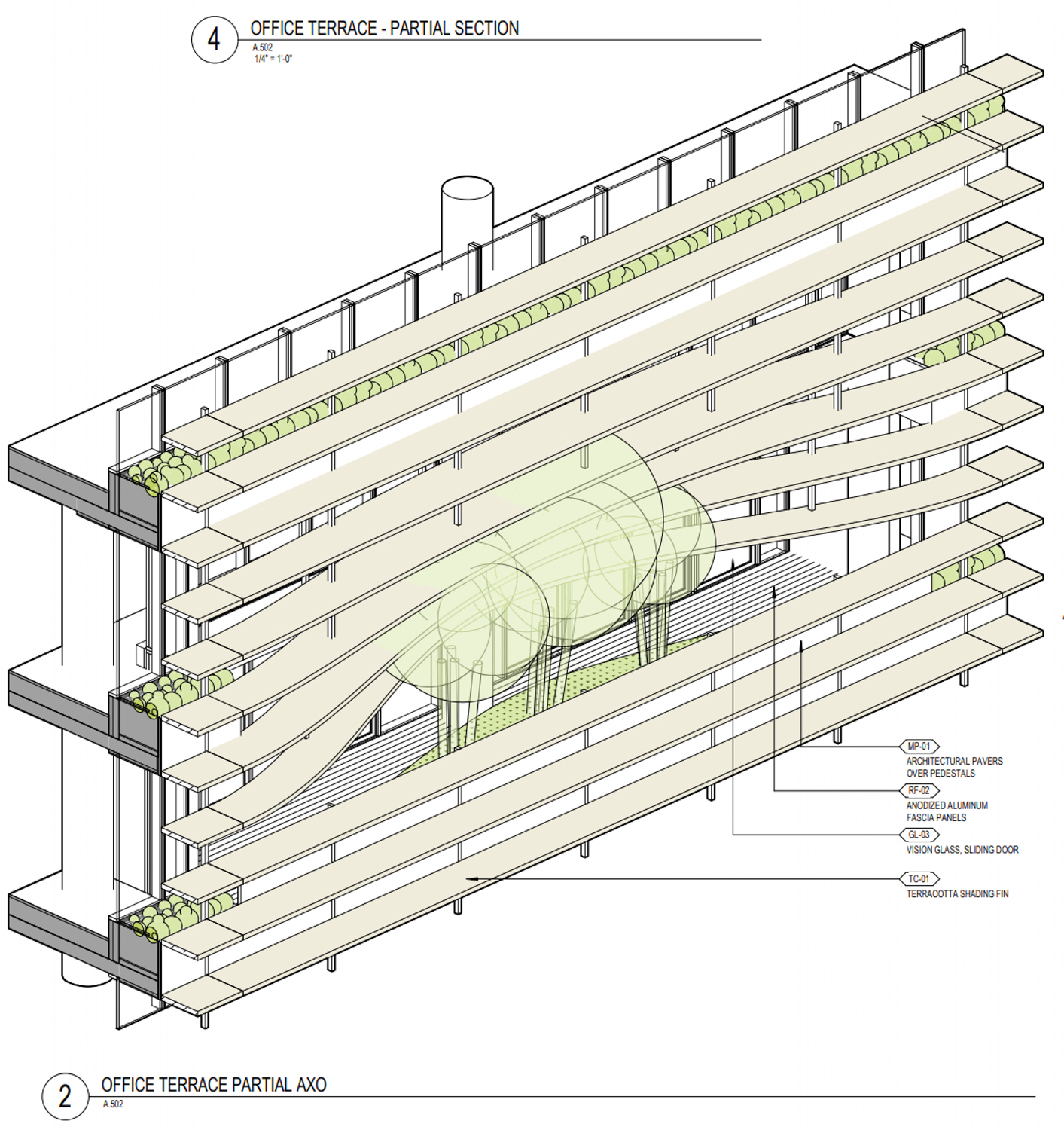 The distinctive parting of the lower ten levels makes space for the 'Urban Room.' The void cuts out the tenth level down to street level, making way for the office lobby entrance and landscaping area with trees and potential seating. The sidewalks surrounding the street will include architectural pavers of granite and brick. With the Urban Room in the center, the north and south ends will be connected to the Fountain Alley and the Pop-Up Paseo. Bionic is responsible for landscape architecture.
The design is competing with several other promising development proposals to be the modern landmark in the burgeoning urban core of San Jose. No less, it could become the city's 'pants,' just as OMA's CCTV building is called in Beijing. The parcel is currently a surface parking lot, meaning no structural demolition is required to allow construction. Many other surface parking lots exist across the city center, leaving a clear vision of hope for more development.
35 South Second Street is immediate neighbors with the Bank of Italy Tower, site of another BIG historic adaptive proposal to be covered by SF YIMBY tomorrow.
An estimated completion date for 35 South Second Street is not yet known. The site development permit was submitted at the beginning of the month and is currently under review.
Subscribe to YIMBY's daily e-mail

Follow YIMBYgram for real-time photo updates
Like YIMBY on Facebook
Follow YIMBY's Twitter for the latest in YIMBYnews