Updated plans will be reviewed tomorrow by the Burlingame Planning Commission for an expansive new life sciences campus at 1200-1340 Bayshore Highway along the San Mateo County bayside coast. The project would replace 12 acres with over 1.5 million square feet across three 11-story buildings. DivcoWest is the project developer.
The three buildings will create 1.57 million square feet. There will be 368,000 square feet for offices and 5,000 in Building 1, 632,000 square feet of office space in Building 2, and 455,000 square feet of office space in Building 3.
The project does offer an eyewatering capacity for vehicular infrastructure. Parking will be included for 3,525 cars in two 10-story garages and 647 bicycles. Each building will rise 11 floors. Generous ceiling heights will push the total height to 213 feet tall.
WRNS Studio is the project architect. The project aims to create a contemporary addition to the city's slowly-expanding waterfront collection of office buildings. Facade materials will include solid or fritted panels in the curtain wall skin, perforated metal, textured concrete panels, cement, and metal.
CMG is responsible for landscape architecture. All five structures will be surrounded by new landscaped green space. A bay trail will separate the structures from the waterfront while offering an appreciated public amenity. Further landscaping amenities will include fitness stations, a discovery play area, boardwalks, and an amphitheater space by Easton Creek. The corner of Airport Boulevard and Bayshore Highway will include the Plaza at South Gateway.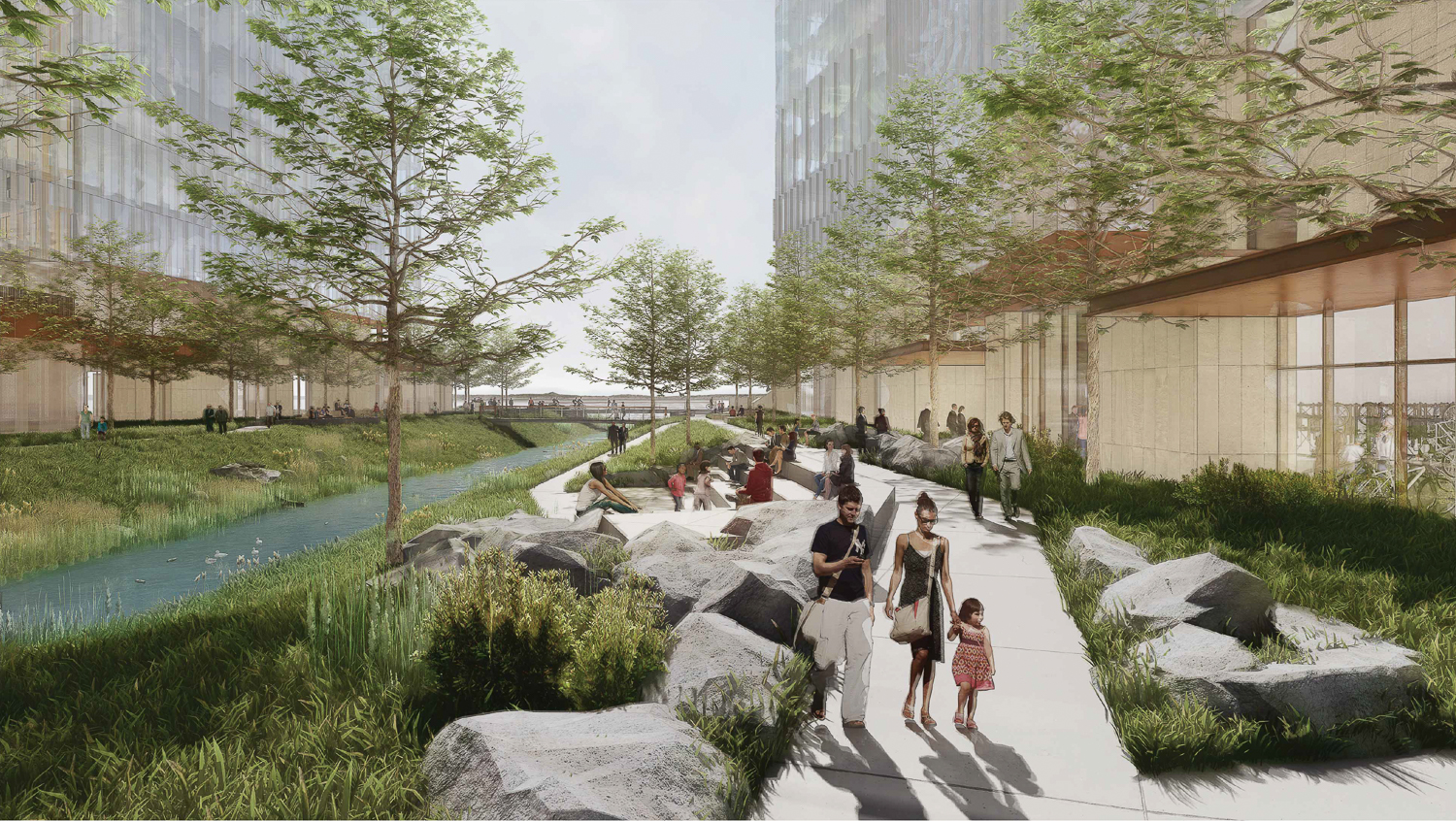 BKF is the civil engineer, IMEG Corp will consult for Structural Engineering, and PAE will be consulting on MEP Engineering.
DivcoWest purchased the properties in two batches, the second of which occurred earlier this year. The firm paid around $109 million for the 12-acre project. The developer is a San Francisco-based developer with projects across the country, including Austin, Boston, Los Angeles, New York, Raleigh, Seattle, and Washington DC.
The structures will be addressed as 1200, 1250, and 1300 Old Bayshore Highway. The property is currently developed with a few restaurants and a hotel inn. Future employees will find themselves in a mostly industrial and commercial bayside neighborhood just south of SFO and by one of Burlingame's primary retail thoroughfares, Broadway. The most recent development in the area is Burlingame Point, the four-structure office complex designed by Gensler and now occupied by Facebook.
The meeting is scheduled to start tomorrow, August 22nd, at 7 PM. Members of the public will be able to attend via Zoom. For more information, see the city website here.
Subscribe to YIMBY's daily e-mail

Follow YIMBYgram for real-time photo updates
Like YIMBY on Facebook
Follow YIMBY's Twitter for the latest in YIMBYnews