Construction has started for the new eight-story affordable housing project by Mercy Housing at 600 7th Street in SoMa, San Francisco. The development, named 7th and Brannan, will add 221 new apartments near the Caltrain San Francisco Station railyard and T Third Street lightrail extension connecting SoMa to Union Square and Chinatown. Over half of the apartments will be designated for formerly homeless adults and families.
The 84-foot tall structure will yield 185,760 square feet, with 181,540 square feet for residential use and 4,220 square feet for commercial retail. Parking will be included for 151 bicycles and no cars owing to the neighborhood's access to walkable food and transit. Residents will have access to two landscaped courtyards on the ground level, one facing a private alley and the other in the lot interior.
Writing to YIMBY, Mercy Housing shared that "the project is actively in the midst of its public art selection process. Working in partnership with neighbors, the two adjacent SoMa cultural districts ( Leather & LGBT Cultural District and SoMa Pilipinas), and project team is reviewing submissions from artists and will be providing pieces for public feedback in the coming weeks. Once completed, the development will feature over $400,000 worth of public art."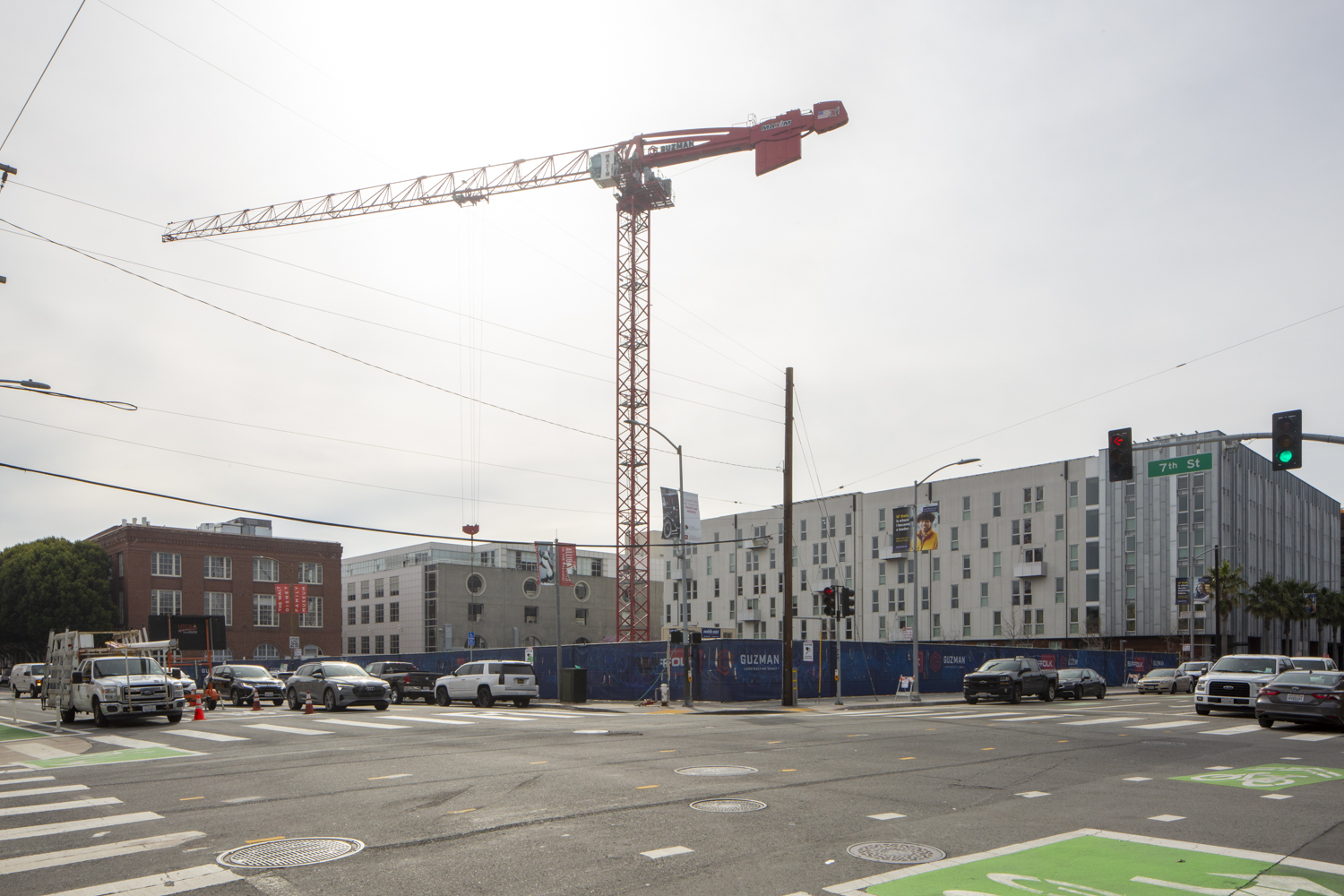 600 7th Street construction site, image by Andrew Campbell Nelson
Mercy Housing describes the project, tentatively named 7th and Brannan, as creating "affordable homes for low-income families and families and individuals who have previously experienced homelessness." Residents will have access to resident services, an onsite property manager, a front desk staffed at all hours, and additional amenities.
Santos Prescott and Associates is the project architect. The apartment block has two flanking wings creating two courtyards to maximize window exposure for residents. Facade materials will include stucco, brick, slats, and smooth panels. Perforated fins will add a decorative flair to the facade, along with semi-diffused shading. The color palette is light, contrasting off-white and grey with terracotta tones.
The structure is rising at the corner of 7th and Brannan Street, across from a MUNI bus stop and my favorite place to get film developed, Oscar's Photo Lab. Residents will be 10 minutes from the San Francisco Caltrain station, the adjacent T Third Street station, and 20 minutes from the Civic Center BART station.
Cliff Lowe Associates is the landscape architect, Luk & Associates is the civil engineer, and Mar Structural Design is the structural engineer. Suffolk and Guzman are joint general contractors. The construction crane has been installed over the 0.87-acre property, a former parking lot and COVID testing site. Construction is expected to cost $88 million, lasting two years from groundbreaking to completion. Completion is expected by Summer of next year.
Subscribe to YIMBY's daily e-mail

Follow YIMBYgram for real-time photo updates
Like YIMBY on Facebook
Follow YIMBY's Twitter for the latest in YIMBYnews