Construction has topped out with facade installation nearly complete for the 39-story mixed-use tower at 1900 Broadway in Downtown Oakland, Alameda County. An official ceremony was held yesterday morning, attended by the project team and construction workers. Behring Companies is the project developer, with Suffolk as the general contractor.
The project is rising over the 19th Street Oakland BART Station and a stop on the Bus Rapid Transit Tempo line by AC Transit. For prospective young professionals, the property offers quicker commute times to Downtown San Francisco than much of the city.
The mixed-use 394-foot tall tower will create 452 apartments, 6,700 square feet of ground-floor retail for several possible tenants, and 40,000 square feet of mixed-use amenity space. Parking will be included with a stacker garage in the basement. The parking process will be entirely automized, using technology developed in packaging warehouses.
Solomon Cordwell Buenz is the project architect. Portions of the facade have already been installed,s reaching up to the 32nd floor. The curtain-wall design is decorated with thin champagne-tone panels and roughly 500-square-foot balconies on alternating floors facing Broadway.
The penthouse lounge will include a bar, media room, entertainment space, and lounge seating. A pocket park for residents will provide outdoor space with seating and tables for relaxation. Further up, a resort-inspired deck will include a pool with adjacent barbeque kitchens, fire pits, outdoor games, and dining space. Other amenities will include the fitness center, dog run, podcast studios, greenscreen labs, conference rooms, and video webinar suites.
Interiors, led by Elizabeth Premazzi, will offer a Stak WFH Furniture Package for residents working from home. This will involve interactive moving cabinets and the ORI Cloud bed stored in the ceiling. Interior work has already started, with rooms starting to take shape. While furnishing is an option, a utility elevator will allow residents to move in large items like beds and desks easily.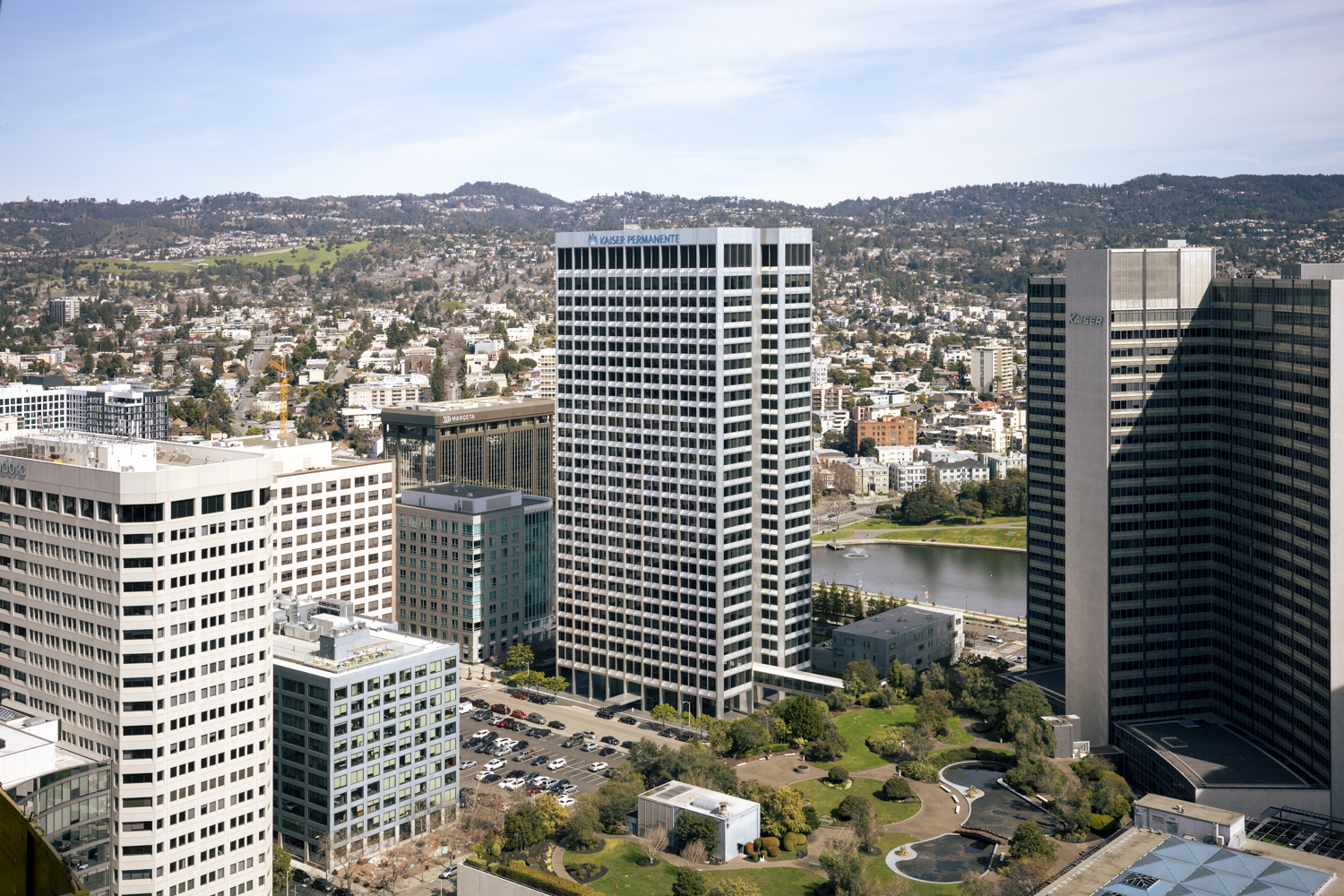 Once complete, the project will offer commanding views across the Bay Area to San Francisco. The transit-adjacent property will be marketed towards young professionals, offering co-working facilities as part of around 40,000 square feet of mixed-use amenities. Several units will even offer co-living spaces with rents starting at $1,700.
The tower is located between 19th and 20th Street, on the same block Hines has proposed, 415 20th Street, a 622-foot office tower that would become the tallest tower in the East Bay if built.
Excavation work started in early 2021. Then in early March, YIMBY toured the site to see concrete at ground level. Once again, YIMBY visited in early March to document progress. Now, completion is expected by November of this year.
Subscribe to YIMBY's daily e-mail

Follow YIMBYgram for real-time photo updates
Like YIMBY on Facebook
Follow YIMBY's Twitter for the latest in YIMBYnews