Just two years after the Macy's shopping mall was demolished in the center of Downtown Sunnyvale, construction has moved fast for phase two. A recent site visit by YIMBY has shown two seven-story offices and the twelve-story apartment complex have topped out, with facade installation underway. Hunter Properties and Sares Regis Group are jointly responsible for the project, part of the 36-acre Cityline Sunnyvale master plan.
For visitors like myself coming from the Sunnyvale Caltrain Station and walking south down Frances Street, the first glimpse of the construction site is of the two offices, Buildings 3A and 3B. Between them, the future road extension leads through the four-story archway carved out of the 479-unit apartment complex at 200 South Taaffe Street.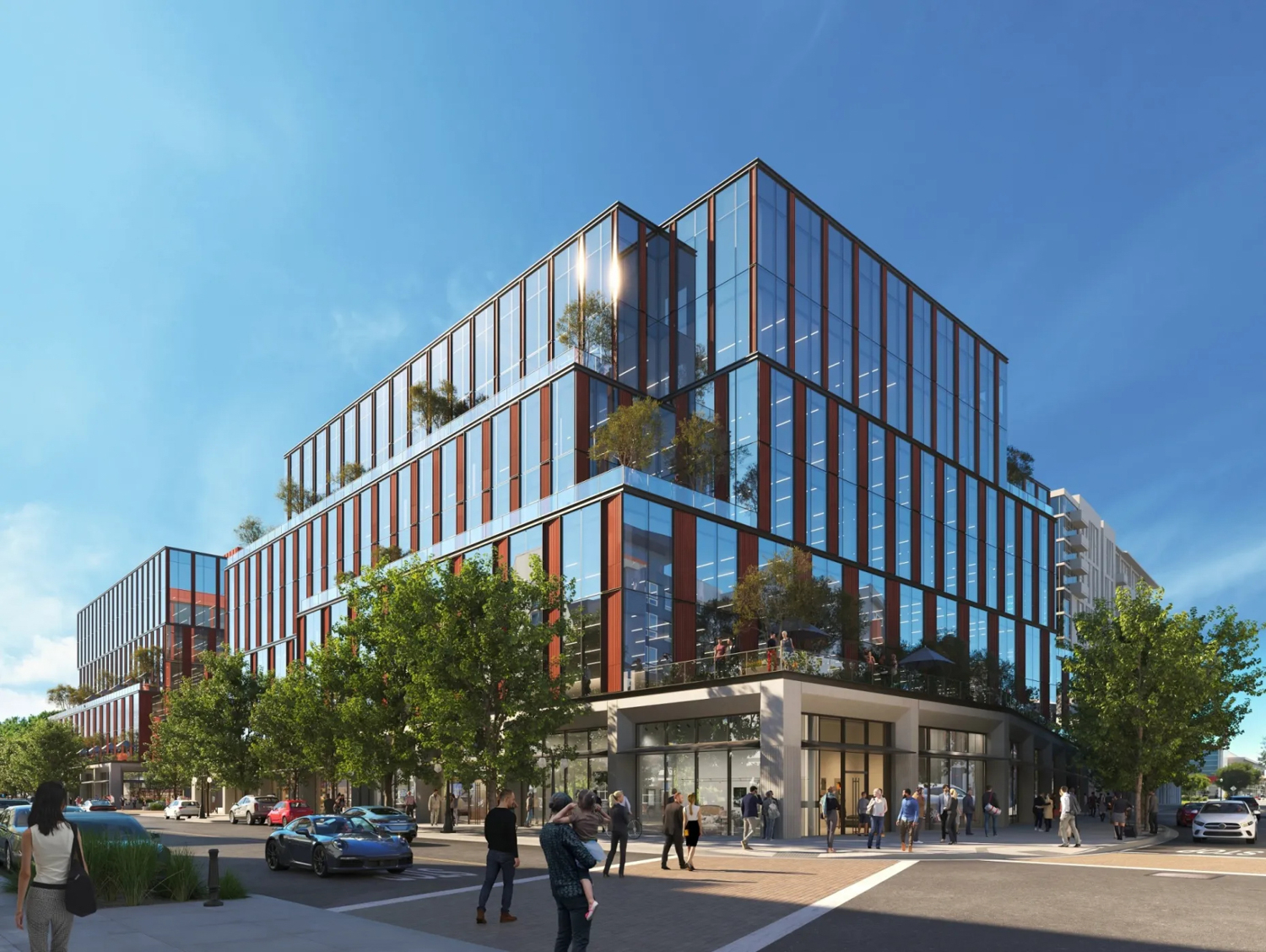 The two offices, jointly addressed for now as 200 West Washington Avenue, each rise 108 feet to yield 499,800 square feet of offices, 50,900 square feet of retail, 22,105 square feet of flex space, 37,415 square feet of shared services, and two levels of below-grade parking.
Gensler is the project architect. Facade installation has already started for both structures, though more progress can be seen in Building 3A. Once complete, the exterior will be fully wrapped in floor-to-ceiling windows framed by terracotta infill panels. At the same time, the base is established with fluted and flat precast concrete around the retail curtainwall.
Bionic is responsible for the landscape architecture. The firm will oversee a slow street intersecting Building 3A and 3B with pavers, outdoor seating, and a potential trellis to shade a public deck. The pathway will cross a new internal street to the pedestrian gateway and plaza in the adjacent construction project, Building 3 South.
Next to the offices is Cityline Block 3 South, addressed at 200 South Taaffe Street. The 12-story apartment complex extends across a long L-shaped floor plate from Taaffe Street to Murphy Avenue, with facade installation at various stages of completion across each exposure. The structure will stand out as the tallest in Downtown Sunnyvale and possibly the tallest in the city, surpassing the 130-foot Moffett Towers by Jay Paul and the 120-foot Google Caribbean offices by BIG. If anyone can confirm that, I'd be most grateful!
The 137-foot tall structure will yield around 817,600 square feet with 516,280 square feet for housing, 24,940 square feet for the ground-level restaurant, 4,700 square feet for retail, and 187,670 square feet for the two-level basement garage. Parking will be included for 470 cars and 184 bicycles. Unit sizes will vary from the 479 apartments, with 36 studios, 79 junior one-beds, 202 one-bedrooms, 137 two-bedrooms, and 25 three-bedrooms
Heller Manus Architects is responsible for the design. The mid-rise podium-style apartment complex will be articulated with protruding elements and balconies to add variety and visual interest. Exterior panels will consist of glass fiber reinforced concrete panels, stone, concrete, and metal panels in various textures and compositions.
Bionic is again leading the landscape architecture. The site will feature a four-story tall gateway carved out of the center of the building to create a pedestrian pathway toward the Caltrain station. Moving south, the corner of the parcel will be improved with a new Redwood Square, a public plaza with child play areas, seating, shading from the heritage redwood grove, and an expansive lawn. For residents, Bionic is overseeing the design of two second-level courtyards, one with a pool and a rooftop deck.
Cityline Sunnyvale is part of the decades-long vision by the city to redevelop the suburb-style mall dubbed Sunnyvale Town Square into a mixed-use district. After a series of legal disputes and a failed initial construction phase, which had produced the existing Target shop and a long-incomplete steel frame where Cityline Block 3 South now stands, Sand Hill Property Company sold the land to the joint venture of Hunter Properties and Sares Regis Group in 2018.
Build Group is the general contractor. At full build-out, CityLine is expected to have 1,066 homes, over a million square feet of offices, and 670,000 square feet for retail and amenities. Phase one has already finished with 309 units, a new home for Target, Whole Foods, and the AMC movie theaters. Phase three will finish the office project at 300 South Mathilda Avenue and the mixed-use Block 6.
Subscribe to YIMBY's daily e-mail

Follow YIMBYgram for real-time photo updates
Like YIMBY on Facebook
Follow YIMBY's Twitter for the latest in YIMBYnews