Construction has topped out with facade installation underway for the 16-story residential complex at 2359 Harrison Street in Northgate-Waverly, Oakland. The project has reshaped a 0.86-acre parcel with hundreds of homes, retail, and a landscaped public plaza. Holland Partner Group is the developer.
The 178-foot structure contains 415,800 square feet, of which 234,400 square feet is for residential use, 13,200 square feet for retail, and 87,400 square feet for the 213-car parking capacity. Long-term parking will also be included for 170 bicycles. Most of the 330 apartments will be one bedrooms, with around the same number of studios and two bedrooms, and a single three-bedroom apartment. Fifteen will be designated as affordable low-income housing for residents earning between 30% to 50% of the Area's Median Income.
Solomon Cordwell Buenz is the design architect. The project covers the irregular-shaped parcel with a four-story podium garage capped by the 12-story mid-rise tower. The L-shaped floor plan will shelter the fifth-floor amenity deck. The sheer facade will frame floor-to-ceiling windows with metal panels covering the upper floors and porcelain tiles at pedestrian level.
Petersen Studio is responsible for the landscape architecture, which includes a tree-lined open plaza along 24th Street, the 5th-floor podium courtyard, and the 15th-floor rooftop terrace. The open plaza will offer outdoor seating, platform seating around planters, and new planters by Harrison Street. By Waverly, an improved pedestrian crossing will further connect 2359 Harrison with Vespr.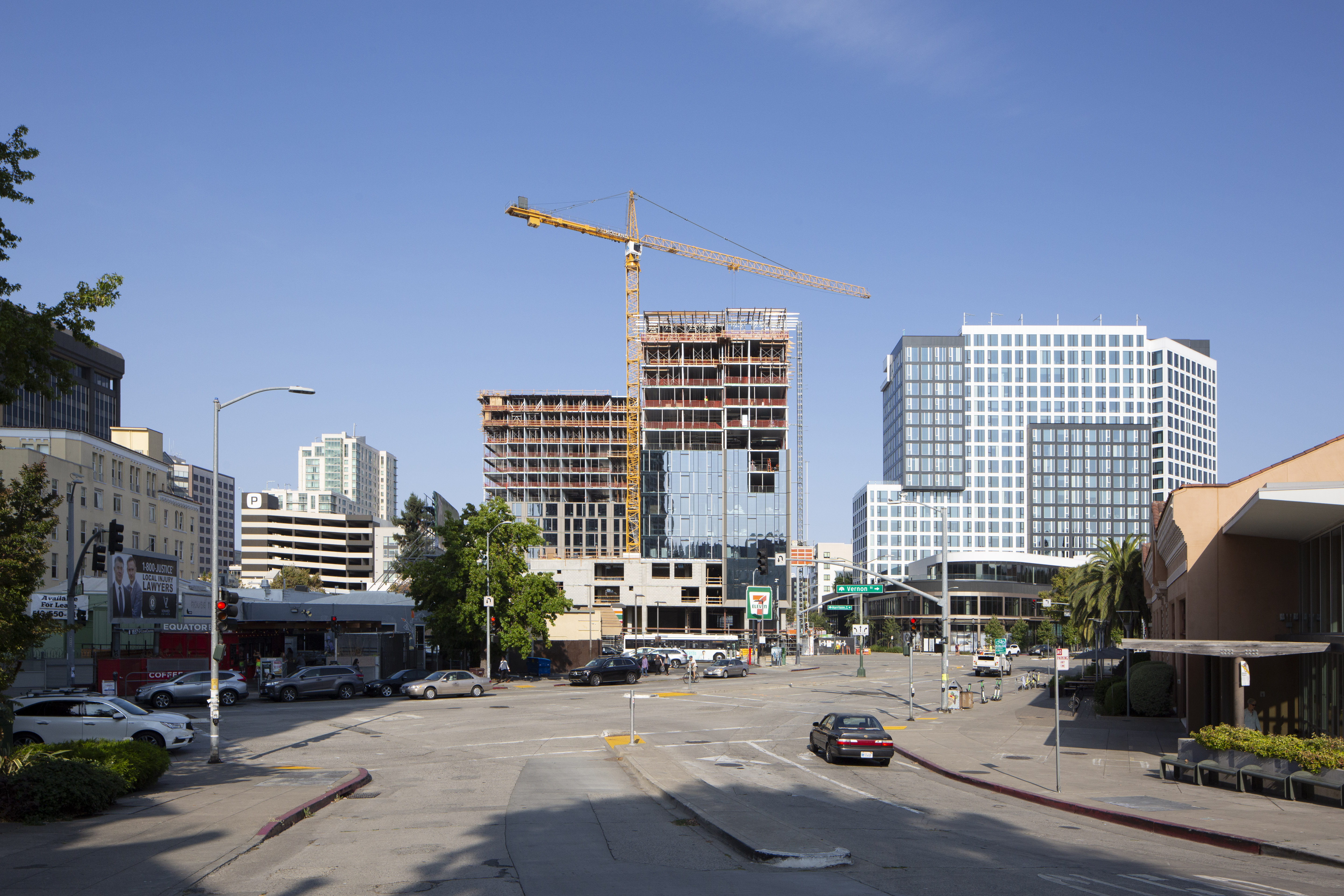 The fifth-floor podium deck will include two community spaces, a garden, and seven private patios. Capping the tower, the rooftop will feature a fire lounge, barbeque room, and an artificial lawn facing south. The deck includes a sheltered path running from the elevator into the amenity lounge.
The project has risen over 24th Street from Harrison the Waverly Street, directly across from Holland's recently-opened apartment complex, Vespr. Residents will be near the recently-opened Whole Foods grocery store, Lake Merritt, and a ten-minute walk from the 19th Street BART Station.
BKF is consulting on civil engineering, with CKC overseeing structural engineering. The team aims to achieve LEED Silver certification. The exterior panels have been installed around five floors above the podium across the full structure. Holland Partners is expecting to start on interior work through the rest of the year. The developer aims to see the first residential move-ins by the second quarter of next year, with the full building ready by the next quarter.
Subscribe to YIMBY's daily e-mail

Follow YIMBYgram for real-time photo updates
Like YIMBY on Facebook
Follow YIMBY's Twitter for the latest in YIMBYnews