New renderings have been revealed along with the approval of a one-year extension for the seven-story application at 1870-1876 El Camino Real in North Burlingame. The project would add 169 new residential units within walking distance of San Mateo County's southern-most BART station in Millbrae. Prime Investors Group LLC is responsible for the project as the property owner.
The 83-foot tall structure will cover nearly two-thirds of the site to yield 211,270 square feet, with 81,350 square feet for the two below-grade parking garage levels with a capacity for 182 vehicles. Storage will be included inside for 85 bicycles. Unit sizes will be split, with 52 one-bedroom units and 117 two-bedroom units. 5,910 square feet will be dedicated to residential amenities, including a fitness center, club room, conference room, and flexible workspace.
Studio T-Square is the project architect. Facade materials will include porcelain tiles, cement board siding, and plaster highlighted with metal trim accents. The storefronts will be built with transparent floor-to-ceiling windows. Plat Studio is the landscape architect and BKF Engineers will be the civil engineer. The landscaping will extend to a public plaza at ground level and the podium amenity deck.
The one-year extension for the project's previously approved application was approved by the planning commission this Monday. The applications include Design Review, Density Bonus, Community Benefits, and Lot Merger.
Construction work is moving along for the Gateway at Millbrae project, producing a new transit-oriented character to the former car-swamped stop. Construction has transformed 9.5 acres of former surface parking into several structures with offices, housing, and retail. For more information, see our previous coverage. The property is also nearby 30 Ingold Road in North Burlingame.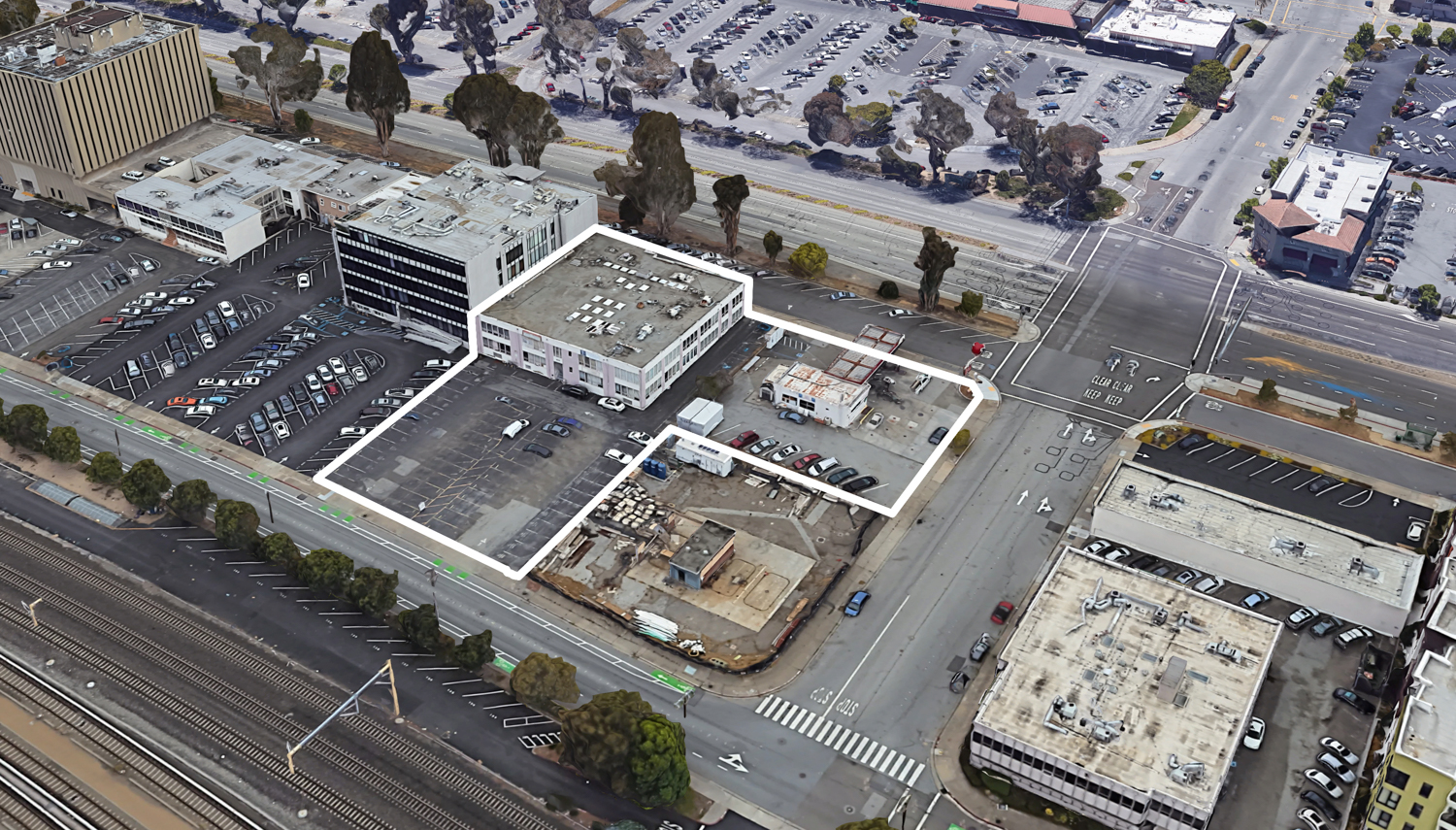 Demolition will be required of a single-story gas station, a two-story commercial structure, and plenty of surface parking.
The Prime Investors Group is a joint venture with Bay Area Oil Supply Inc. and Prime Plaza LLC. SFYIMBY has reached out to the developer for information about an updated timeline for construction but has not heard back by the time of publication.
Subscribe to YIMBY's daily e-mail

Follow YIMBYgram for real-time photo updates
Like YIMBY on Facebook
Follow YIMBY's Twitter for the latest in YIMBYnews