Updated designs have been published for a residential proposal at 2055 Chestnut Street in San Francisco's Marina District. The proposal will replace a 0.66-acre property occupied by surface parking and a single-story structure with rental housing, retail spaces, and a grocery store. The San Francisco-based Prado Group, an active real estate investment firm and developer, is responsible for the development.
The project has been cleared by the Environmental Review, which was published to say that "the following project could not have a significant effect on the environment, and that no environmental impact report is required. Accordingly, a preliminary mitigated negative declaration has been prepared."
The 40-foot tall structure will yield over 100,000 square feet with 47,730 square feet for residential use, 31,200 square feet for retail or commercial space, and 11,830 square feet for the twenty-car underground garage. Parking will also be offered for 80 bicycles for residents and retail users.
Of the 49 rental units to be created, there will be 34 one-bedrooms, eight two-bedrooms, and seven three-bedrooms. Nine of the homes will be priced as affordable housing.
Jensen Architects is responsible for the design. The facade will feature aluminum storefront systems, cement plaster, fiber cement siding, metal trim, and metal canopies. The main aesthetic is to be given by the decorative ceramic cladding that will contrast the black metal panels framing the inset windows.
Munden Fry Landscape Associates, or MFLA, is responsible for landscape architecture. Greenery will be introduced across the project, as the multifamily housing will snake above the retail floors around six courtyards, providing light for residents in the interior of the lot.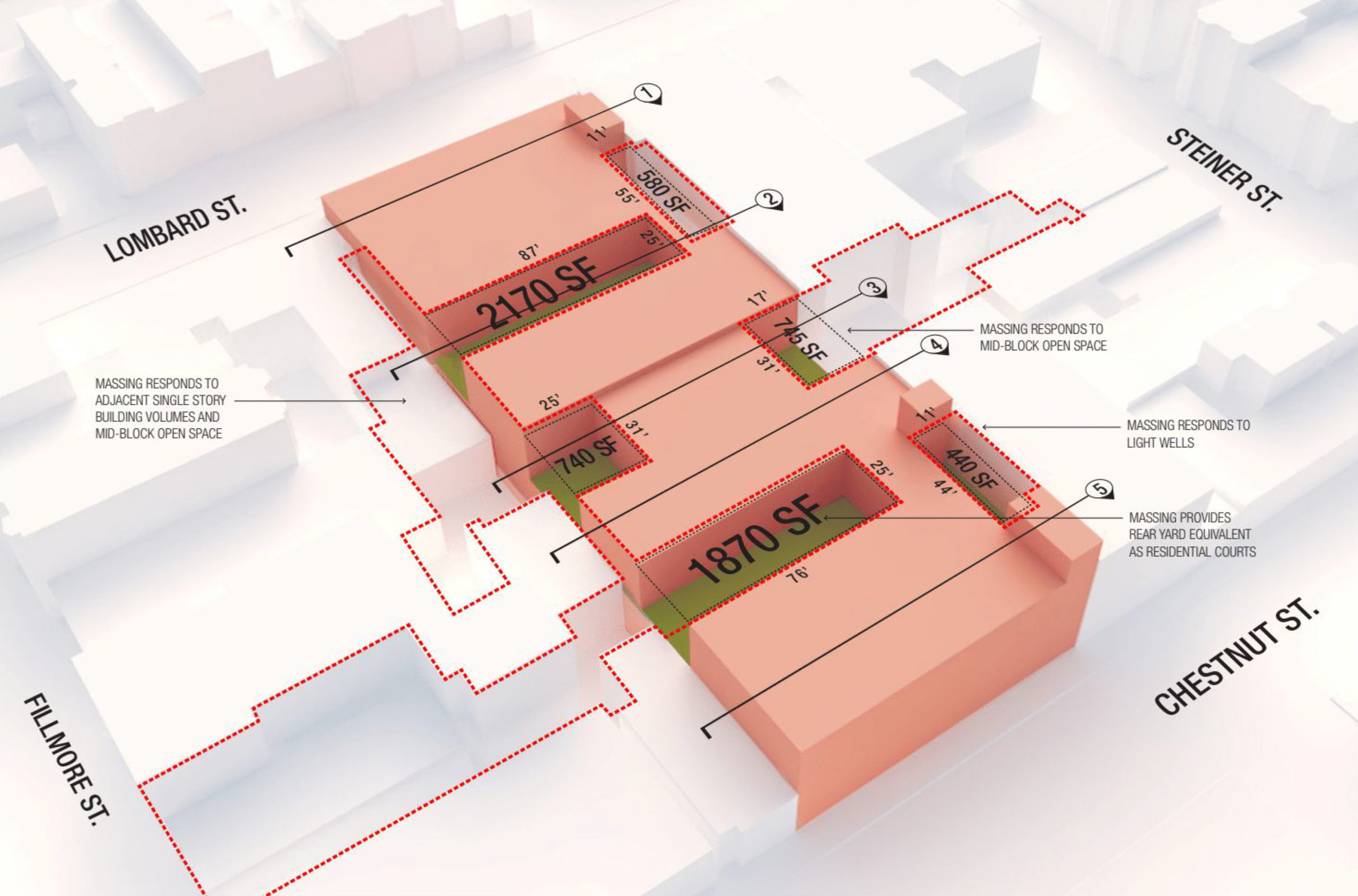 The property is located between Chestnut Street, Lombard Street, Fillmore Street, and Steiner Street. Several MUNI bus lines service stops by 2055 Chestnut Street. Lombard is a major vehicular thoroughfare connecting east-to-west. Residents will be ten minutes away from the Marina shoreline, the Presidio, and 15 minutes from the Great Meadow Park at Fort Mason by foot. Market Street can be reached in around twenty minutes by bus, with the 30 or 70 driving by the Civic Center BART Station.
Construction is estimated to cost $20 million and should last 18 months from groundbreaking to completion.
Subscribe to YIMBY's daily e-mail

Follow YIMBYgram for real-time photo updates
Like YIMBY on Facebook
Follow YIMBY's Twitter for the latest in YIMBYnews