New building permits have been filed for 10 South Van Ness Avenue, the sixth tallest project in the Bay Area's pipeline. The 590-foot residential tower would create 966 new homes from a triangular 1.2-acre lot between Market and Mission Street in San Francisco's Civic Center. Crescent Heights is responsible for the development.
The recently-filed permits estimate construction will cost $430 million, a figure not inclusive of all development costs. The overall price tag is certain to exceed the estimated construction cost.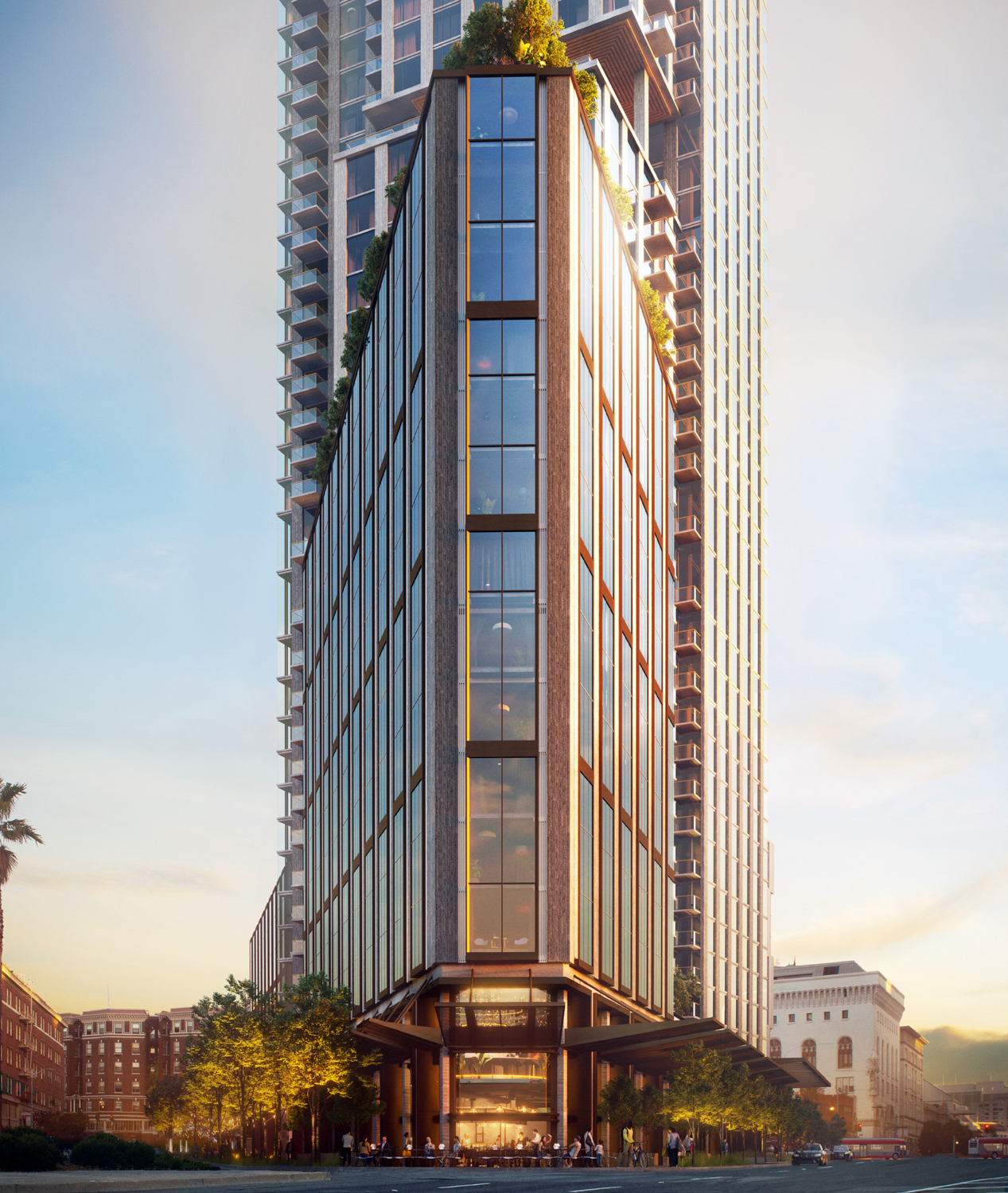 10 South Van Ness flatiron podium elevation, design by Kohn Pedersen Fox
The development has been issued a CEQA clearance, with approval filed for the Downtown Exception, Conditional Use Authorization, and Zoning Variance applications. A few other steps for approval are required before the demolition, and new building permits can be issued.
Speaking with YIMBY last October, planning department staff shared that Crescent Heights purchased and transferred 1979 Mission Street to the City of San Francisco, writing, "this purchase and transfer satisfies Crescent Heights' affordable housing obligations under section 415 (the inclusionary housing program) for their project located at 10 South Van Ness." The city will develop the site to be 100% affordable housing.
The 55-story tower will contain 1.06 million square feet, with 910,970 square feet for residential use, 29,440 square feet for retail, and 123,090 square feet of parking for 255 cars. Parking will also be included for 382 bicycles. Crescent Heights will spread 31,060 square feet of usable open space across the project between various amenity levels. This includes the rooftop terrace and privately owned public open space. Unit sizes will vary with 347 studios, 433 one-bedrooms, 165 two-bedrooms, and 21 three-bedrooms.
Kohn Pedersen Fox is responsible for the design. The imposing tower features a mix of curtain-wall glass, stone, concrete, and metal frames mixed with biophilic decoration. The firm describes the comprehensive design approach as a crystalline formation, "arranged in a spiral stepping up the tower, the gardens are positioned at specific heights that promote a connection to the surrounding context." Divided into four masses, residents will be afforded views of the urban core, the Bay, San Francisco's mountains, and the Golden Gate Bridge. The project will integrate several climate-specific energy and resource-saving strategies as part of an overall target of zero site emissions.
Just five more proposed buildings could rise taller than 10 South Van Ness. These include the 600-foot proposal at 45 Third Street, the 622-foot proposal at 415 20th Street in Oakland, the 806-foot Transbay Parcel F project, the 910-foot tall on-hold Oceanwide Center tower, and lastly, the 992-foot tall proposal by Hines for 50 Main Street. Behind 10 South Van Ness is 620 Folsom Street, a 575 feet tall residential tower from Ground Matrix that is expected to contribute 623 rental units to the city.
The property is located in the heart of the Market & Octavia Area Plan, also known as The Hub. The area plan was adopted in 2008, creating the opportunity for several new skyscrapers in the 84-acre area. Apartments have already opened at 1550 Mission by Related Companies and 30 Otis by Align Development. Most recently, demolition has finished for 30 Van Ness. The plan was amended in July of 2020 to approve the height for 10 South Van Ness, 30 Van Ness, and 98 Franklin. Another 15 sites from the original rezoning plan still have not seen formal planning applications filed.
The property was purchased in 2014 for $58 million. Construction is expected to last 36 months. SFYIMBY has reached out to Crescent Heights for a construction timeline and has not received a reply as of the time of publication.
Future residents will overlook the recently-opened Van Ness Bus Rapid Transit Line. For regional transit, the Civic Center BART Station is five minutes away on foot.
Subscribe to YIMBY's daily e-mail

Follow YIMBYgram for real-time photo updates
Like YIMBY on Facebook
Follow YIMBY's Twitter for the latest in YIMBYnews