Construction has topped out for the 19-story mass timber apartment structure at 1510 Webster Street in Downtown Oakland, Alameda County. The project, the tallest mass timber tower on the West Coast, will bring 236 new residences capped by a public rooftop deck. oWow, the project developer, hopes to welcome their first residents before the year's end.
The mass-timber and concrete structure topped out earlier this month, with facade installation nearly topped out. The modular panels, built in Canada, are just part of several efficient construction methods that allowed oWow to reach this milestone less than a year after the groundbreaking last October.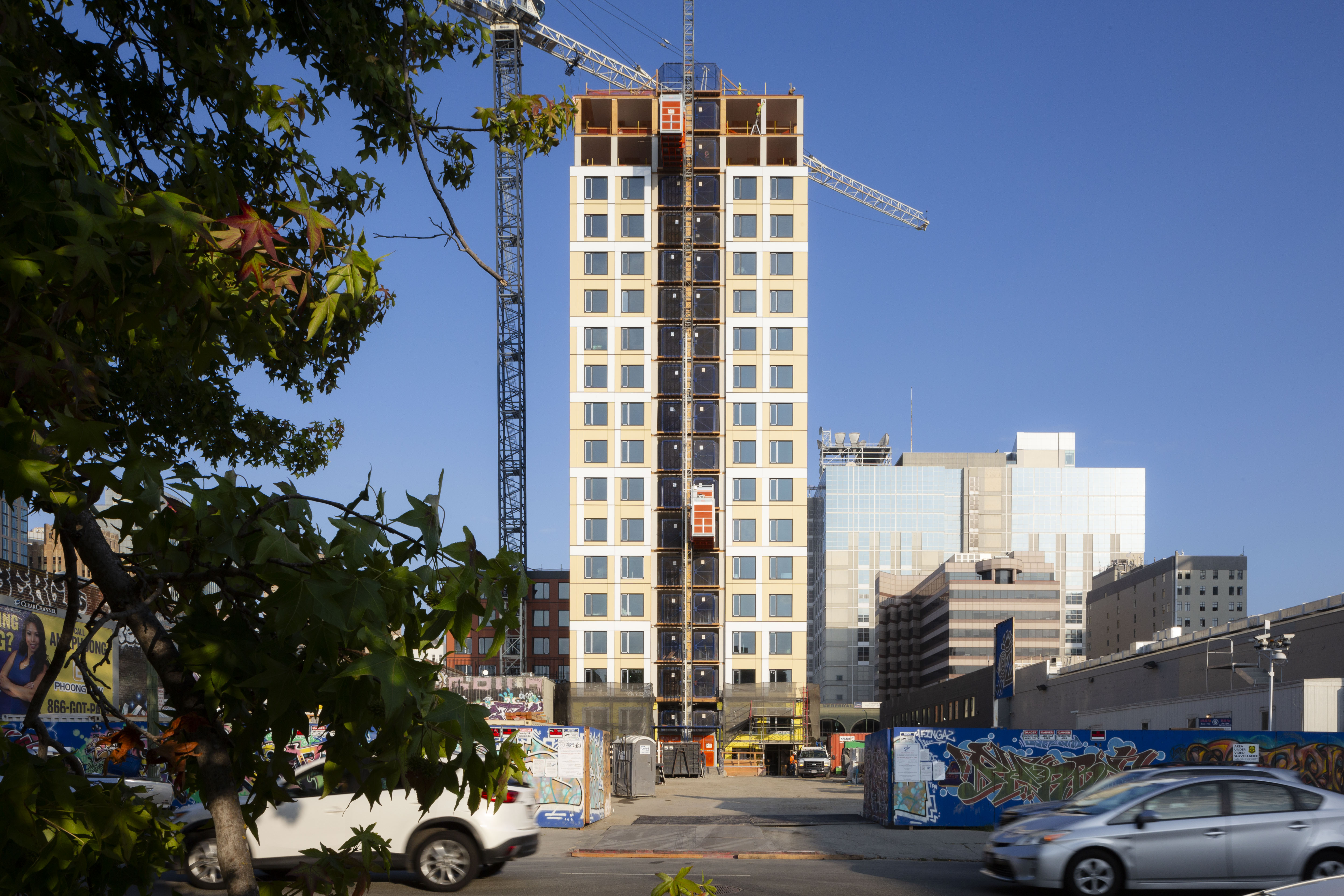 Speaking with YIMBY, oWow Co-Founder and CEO Danny Haber shared that plans for 1510 Webster Street have been adjusted significantly after the firm conducted an in-person survey of over 500 people at Lake Merritt, the Emeryville IKEA, and Dolores Park in San Francisco to learn more about what people want from their apartment. Haber explained that during the course of the survey, "Each week, we would get people's feedback and change the plan. We did weekly iterations for months."
By far, the biggest change for 1510 Webster and their adjacent proposal at 1523 Harrison will be bigger apartments. "One thing we learned was that our square footage was too small… We increased our sizes between 30-50% on our apartments for overall square footage." Another significant alteration was for the two-bedroom apartments. As Haber put it, he "didn't understsand the level of hate that people have for two-bedrooms with shared walls."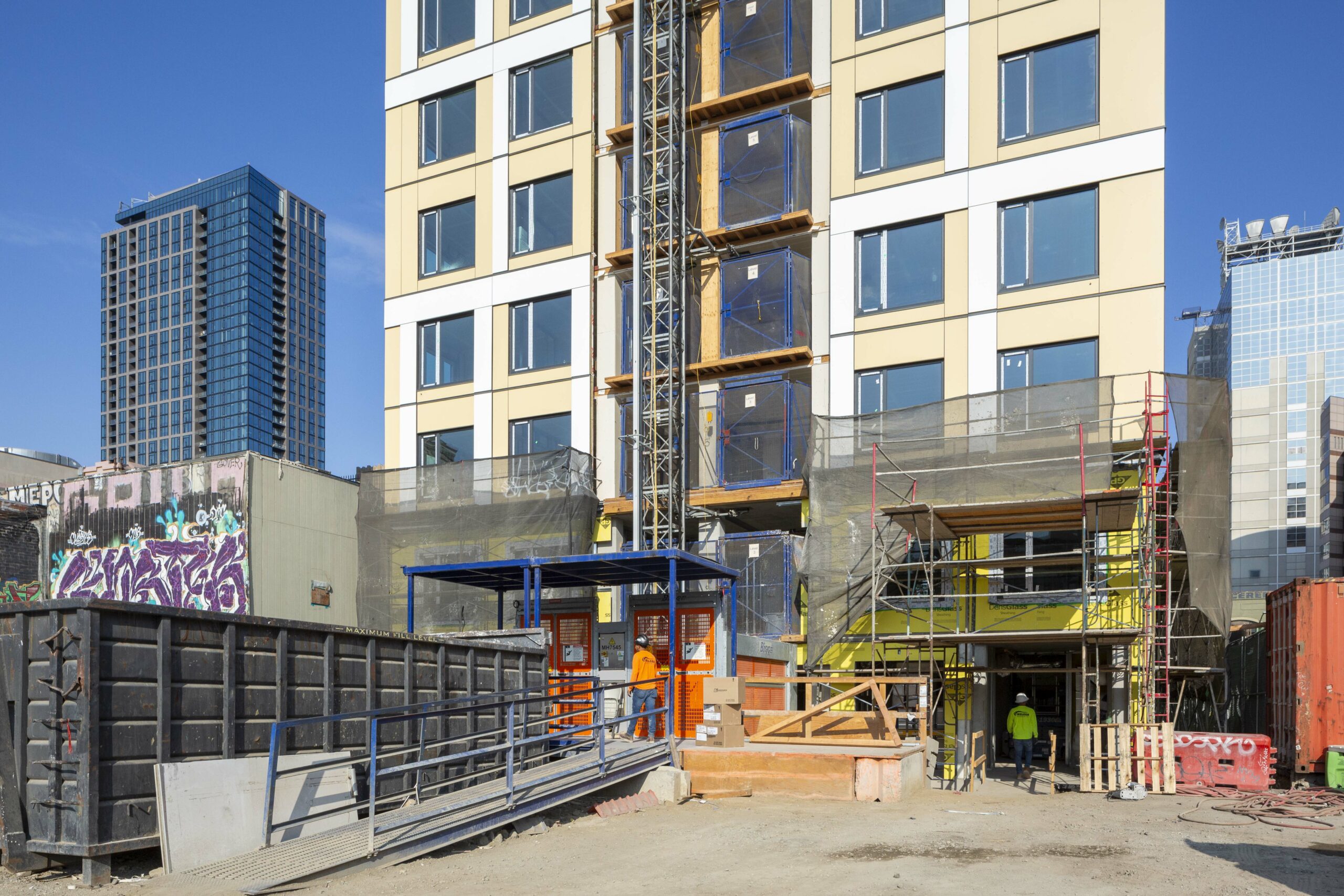 1510 Webster Street ground level from the construction site, image by Andrew Campbell Nelson"We were surprised by how much time people still spend in their bedrooms… There are a ton of people who work all day in their bedrooms." Talking with people and visiting other apartments, Haber noted few residents "actually use those co-working places because people really focus on setting up good working spaces in their apartment." In response, the firm made "a good place for people to set up a desk for workspace with natural light."
The project will create 236 rental units, of which 51 are designated as affordable for 16 very low-income and 35 moderate-income households. Unit sizes will vary between one-bedrooms and two-bedrooms. Parking will be included for 76 bicycles and no cars. Regarding that last point, Haber said "we were incorrect that, at this point, you don't really need parking. So one thing we're going to do with Harrison is we're going to add a lot more parking because we feel that, based upon data and what we're seeing, it's an important demand."
The 187-foot tall structure will yield around 193,000 square feet with 150,200 square feet for housing, 2,930 square feet for retail, and 2,590 square feet for residential amenities split between the ground level and the rooftop. Shared open spaces will be created on levels 7 and 17.
The rooftop deck is expected to become a public amenity occupied by a future commercial tenant. Haber said of the retail space, "We're talking to different groups… Our goal would be to have one operator take the vast majority of the space to successfully integrate it together." The rooftop will be accessible from the ground floor public courtyard. Residents will also be able to enter their apartments from the plaza or through the interior lobby.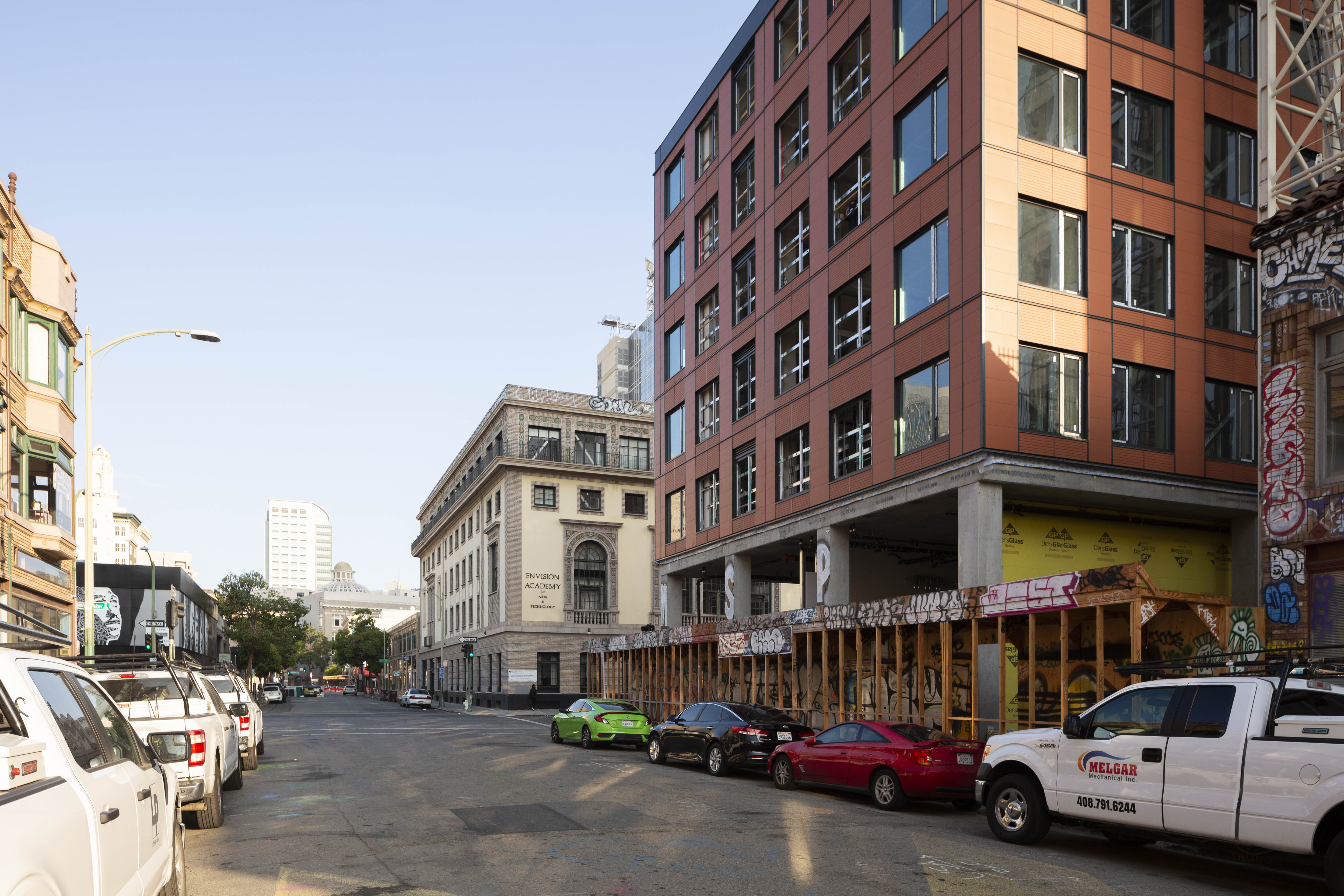 oWow is the architect. The design for 1510 Webster was made to complement the scale of the adjacent YWCA Building designed by the famous early 20th-century architect Julia Morgan. Earth-tone terracotta and precast material will mirror the historic structure.
Immediately next to 1510 Webster, oWow has proposed another mass timber project. The 25-story tower at 1523 Harrison Street would create 361 apartments and parking. Construction is expected to start next year after 1510 Webster has completed.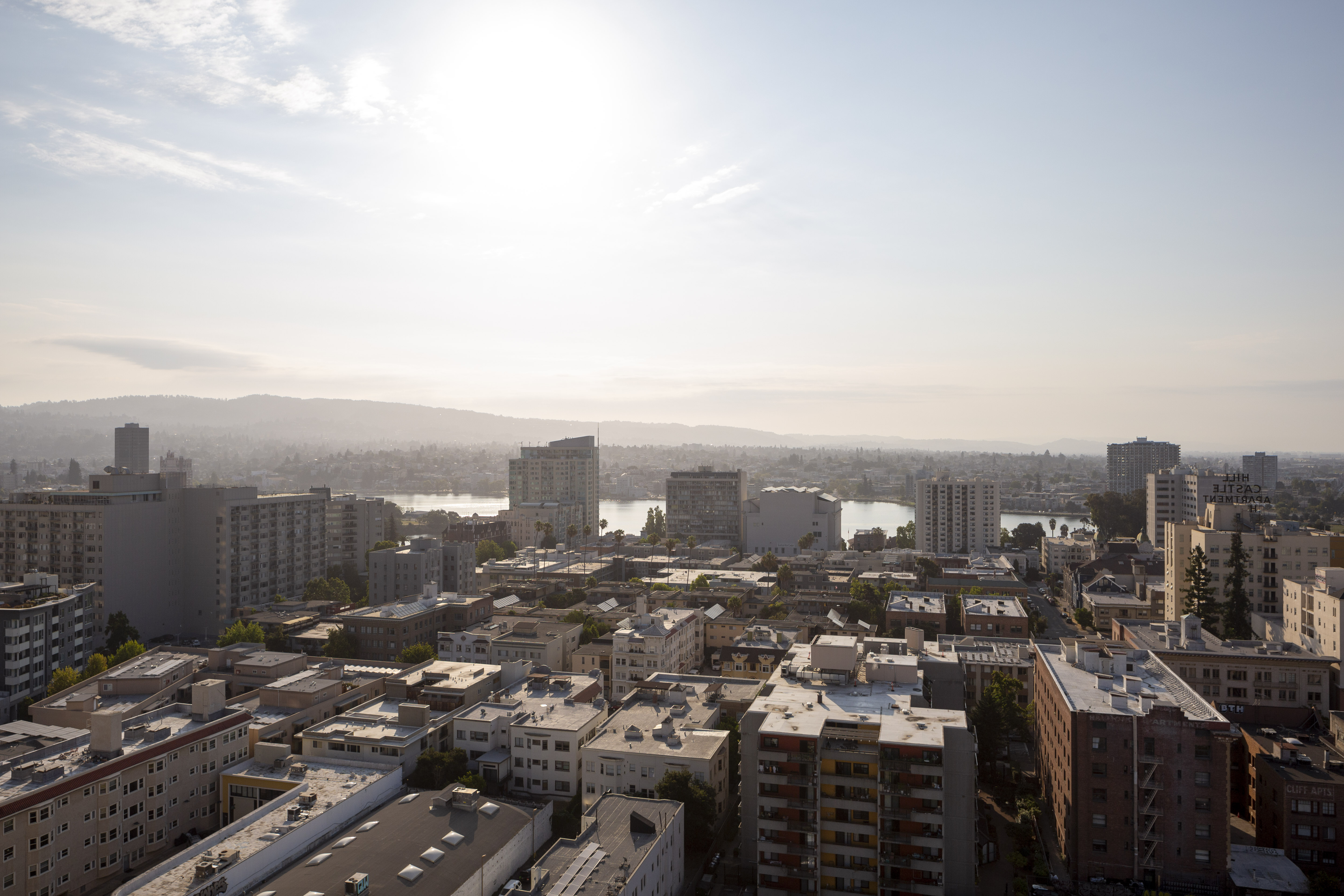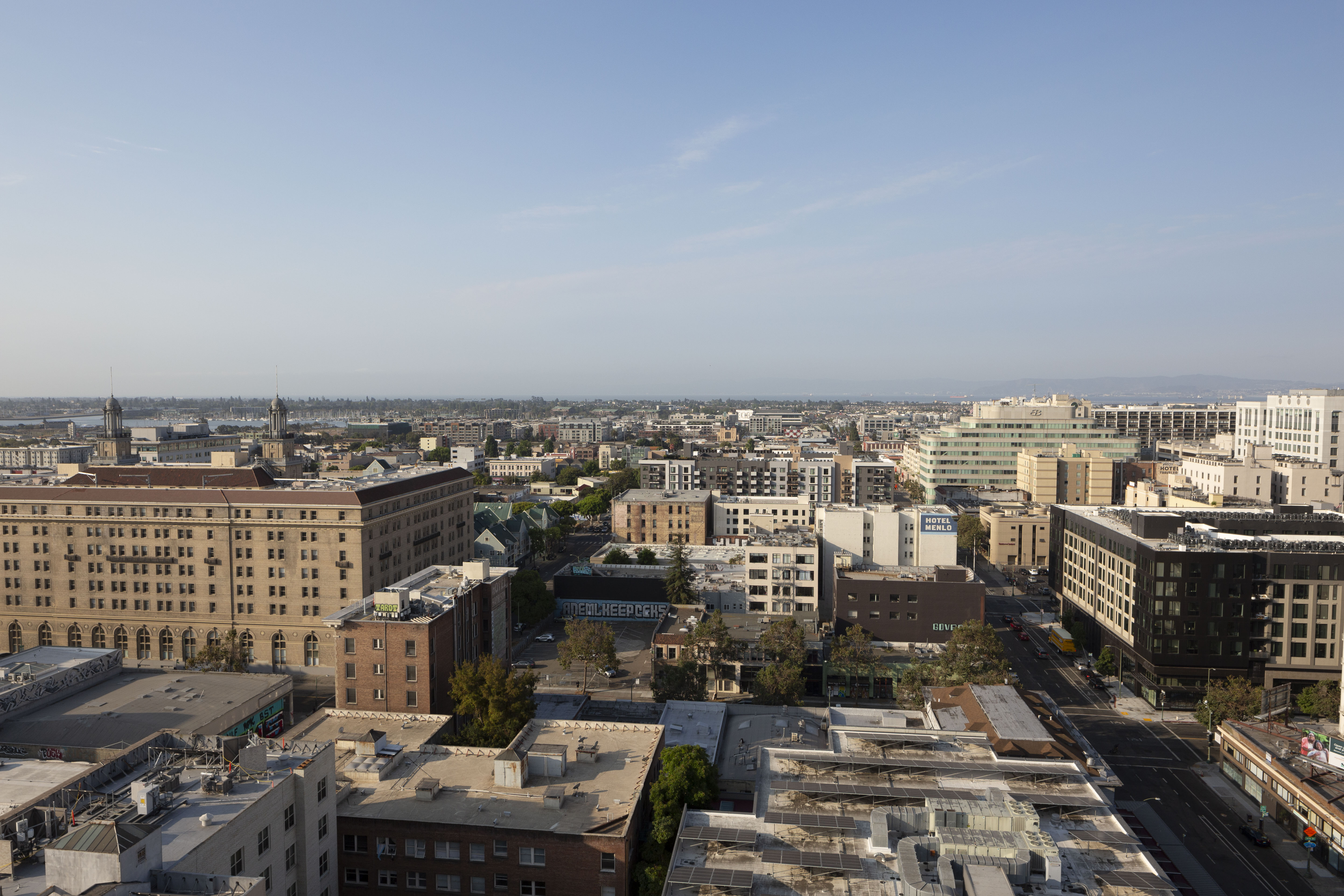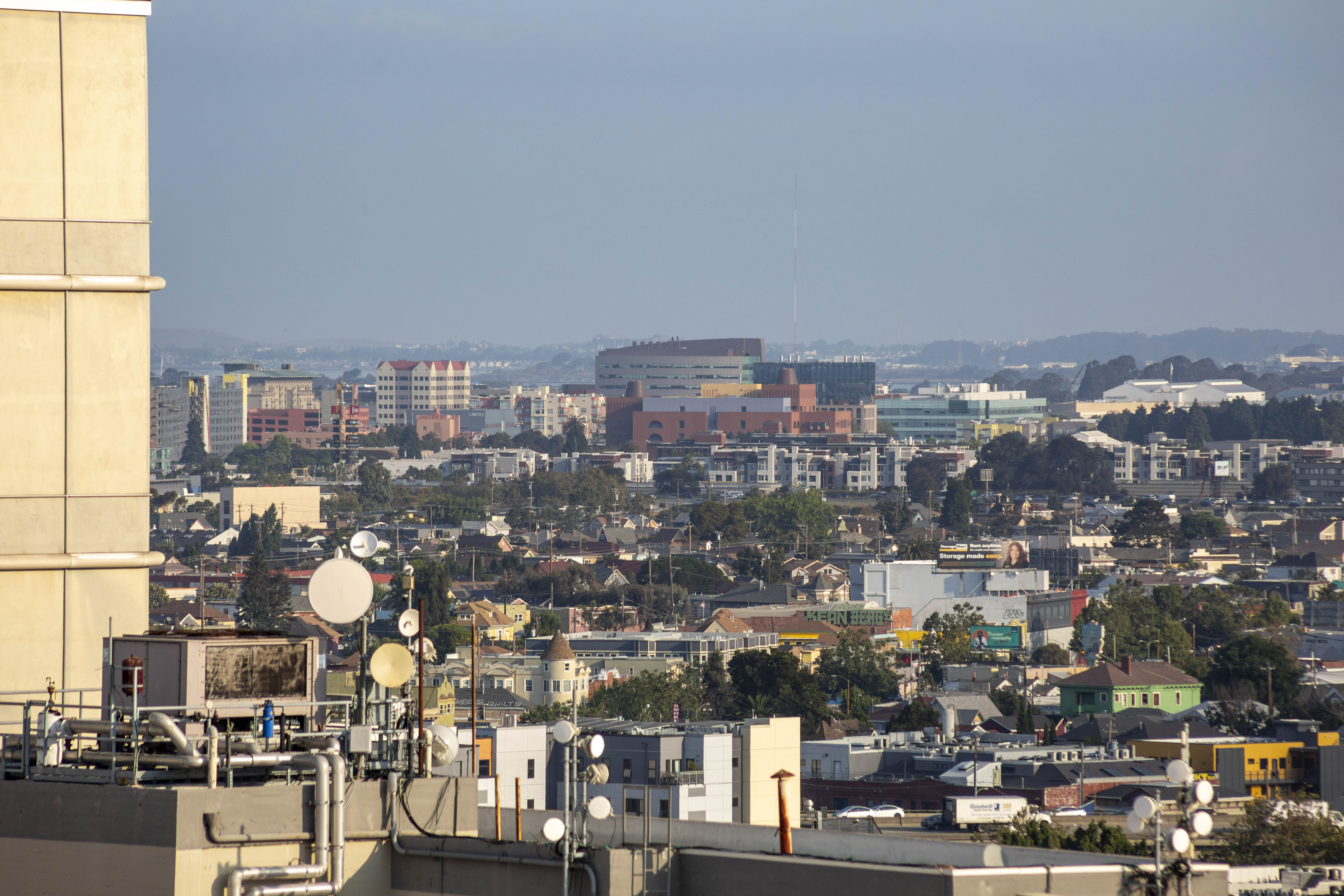 The 0.32-acre property is located at the corner of 15th and Webster Street, close to AC Transit, BART, and Lake Merritt. From the top, we could spot a few projects covered by YIMBY, including Atlas, 1431 Jefferson Street, 1900 Broadway, the rising Brooklyn Basin waterfront development, and 412 Madison Street in Jack London Square.
DCI, the same firm involved with One De Haro, the first Cross Laminated Timber office development to finish in California, will be the structural engineer. Calichi Design Group is the civil engineer. oWow expects to achieve Temporary Occupancy Certification as early as December this year, allowing occupancy for the first two levels. Full occupancy is expected in 2024.
Subscribe to YIMBY's daily e-mail

Follow YIMBYgram for real-time photo updates
Like YIMBY on Facebook
Follow YIMBY's Twitter for the latest in YIMBYnews