Demolition work is nearly complete at 555 Bryant Street, making way for a new 16-story mixed-use infill in SoMa, San Francisco. The 0.75-acre site will soon be home to 501 apartments nearby a new MUNI Central Subway station and Caltrain. Strada Investment Group is the project developer.
Strada purchased the property in 2021 for around $45 million. The plans made use of Senate Bill 330 to expedite the approval process and the State Density Bonus program to increase residential capacity above base zoning. New building permits estimate construction to cost around $220 million, a figure not inclusive of all development costs. Writing to YIMBY, Strada shared that "demolition is underway, and construction is expected to take about 30 months to complete. The project will provide 501 units of market-rate and affordable housing right on public transit as part of the Central SoMa plan."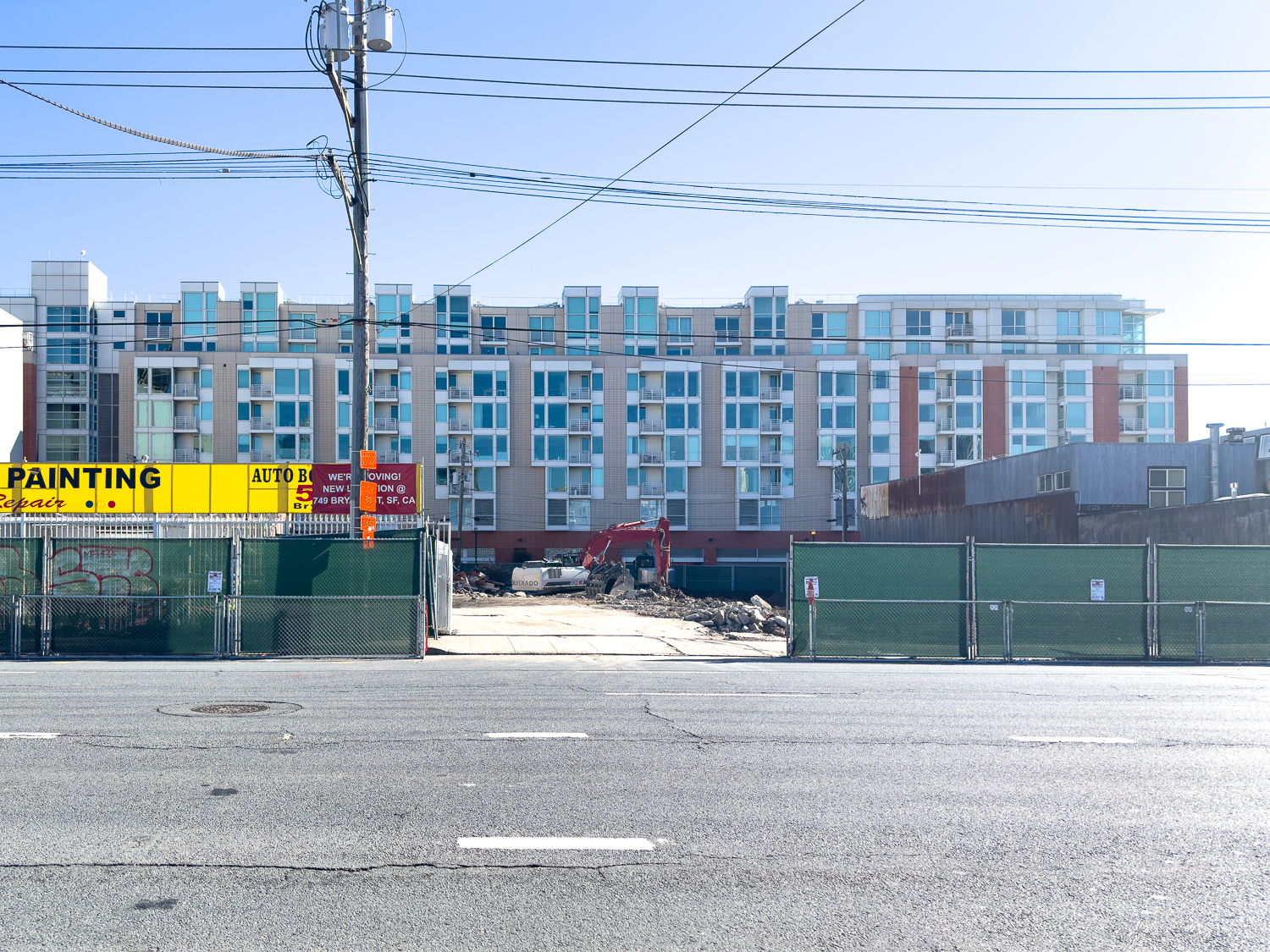 555 Bryant Street demolition progress, image by author
The 160-foot tall structure will yield 499,090 square feet, with 433,350 square feet for residential use, 20,600 square feet for light industrial use at ground level and basement level two, and 45,200 square feet for a three-level vehicular garage.
Of the 500 units described by the planning documents, 78 will be deed-restricted as affordable housing. Parking will be included for 125 cars and over 200 bicycles. Unit sizes will vary, with 74 studios, 228 one-bedrooms, and 198 two-bedrooms. Plural Landscape Architects is responsible for designing the open space including two courtyards on the second floor and a rooftop terrace connected to an amenities room. Speaking with YIMBY, Strada has shared that the project will now include 501 units.
Solomon Cordwell Buenz is the project architect. The jagged white exterior with oscillating sawtooth bay windows is only the latest in a series of new designs with a similar interpretation of one of San Francisco's iconic architectural vernacular. The admired trend became most visible with MIRA by Studio Gang. The new contemporary vernacular is also in proposals for 67-69 Belcher Street, designed by Stanley Saitowitz | Natoma Architects, 1401 Folsom Street designed by RG Architecture, and arguably at 560 Brannan Street, designed by Iwamotoscott Architecture.
Once the demolition is complete, excavation will be required for the foundation and two floors of below-grade parking.
Subscribe to YIMBY's daily e-mail

Follow YIMBYgram for real-time photo updates
Like YIMBY on Facebook
Follow YIMBY's Twitter for the latest in YIMBYnews