Plans for a new tower have been revealed for Downtown Oakland. Ellis Partners has submitted a preliminary application to review plans for a 375-foot office building at 1919 Webster Street, located in the urban center of Oakland. If built, the proposal would replace an existing surface parking lot and a vacant six-story building.
Ellis Partners, in a joint venture with Boston-based International Real Estate Corporation, purchased the area in April of this year for $23.5 million. Reporting by Laura Waxmann for the Business Journal revealed the seller to be Pacific Gas and Electric, i.e., PG&E. Speaking with Waxmann, Ellis Director of Development Dean Rubinson shared that the firm was "hopeful that we will make a submission to the city sometime this year." It appears now the submission has come forward.
PG&E, for their part, have been shedding unnecessary real estate holdings, and are expected to move into a new headquarters in Oakland at 300 Lakeside Drive by mid-2022. PG&E's former headquarters in San Francisco was sold to Hines. Hines has recently unveiled the 200 Mission Street Campus, which plans to reskin 77 Beale Street and erect the third-tallest skyscraper in San Francisco at 50 Main Street.
The 375-foot tall structure will rise 24 floors to yield roughly 520,000 square feet of office space above two floors of underground parking.
Further details about the project are scarce. SFYIMBY has contacted Ellis Partners and has not received a reply as of the time of publication. Imagery for this article has been created by SFYIMBY to give an approximate scale for the potential 375-foot tower. New renderings are likely to be published sooner than later.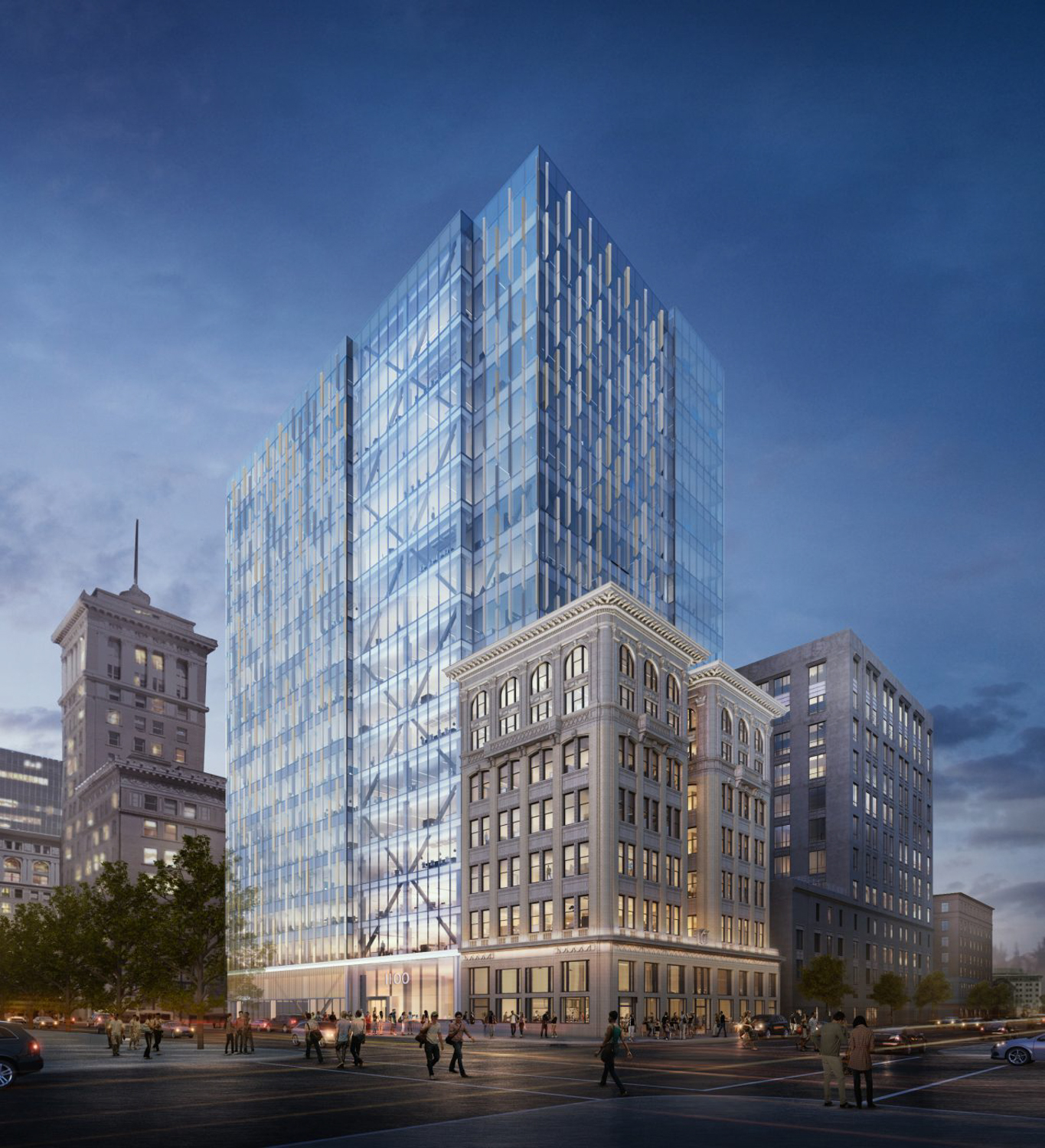 Ellis Partners has also worked with Gensler on The Key at 12th, a recently-completed 18-story office tower with 10,000 square feet of retail, a rooftop terrace, and immediate access to the 12th Street BART Station at 1100 Broadway.
1919 Webster Street is in a highly desirable area, across from the residential development under construction at 1940 Webster Street, just two blocks away from Lake Merritt, and two blocks from the 19th Street BART Station. Employees will also have nearby access to AC Transit bus stops.
Subscribe to YIMBY's daily e-mail

Follow YIMBYgram for real-time photo updates
Like YIMBY on Facebook
Follow YIMBY's Twitter for the latest in YIMBYnews