New plans will be reviewed today for two ten-story R&D buildings at 100 East Grand Avenue in South San Francisco, San Mateo County. The project will replace low-slung commercial structures with modern new life science offices, further expanding the city's burgeoning biotech industry. Alexandria Real Estate Equities is the project applicant.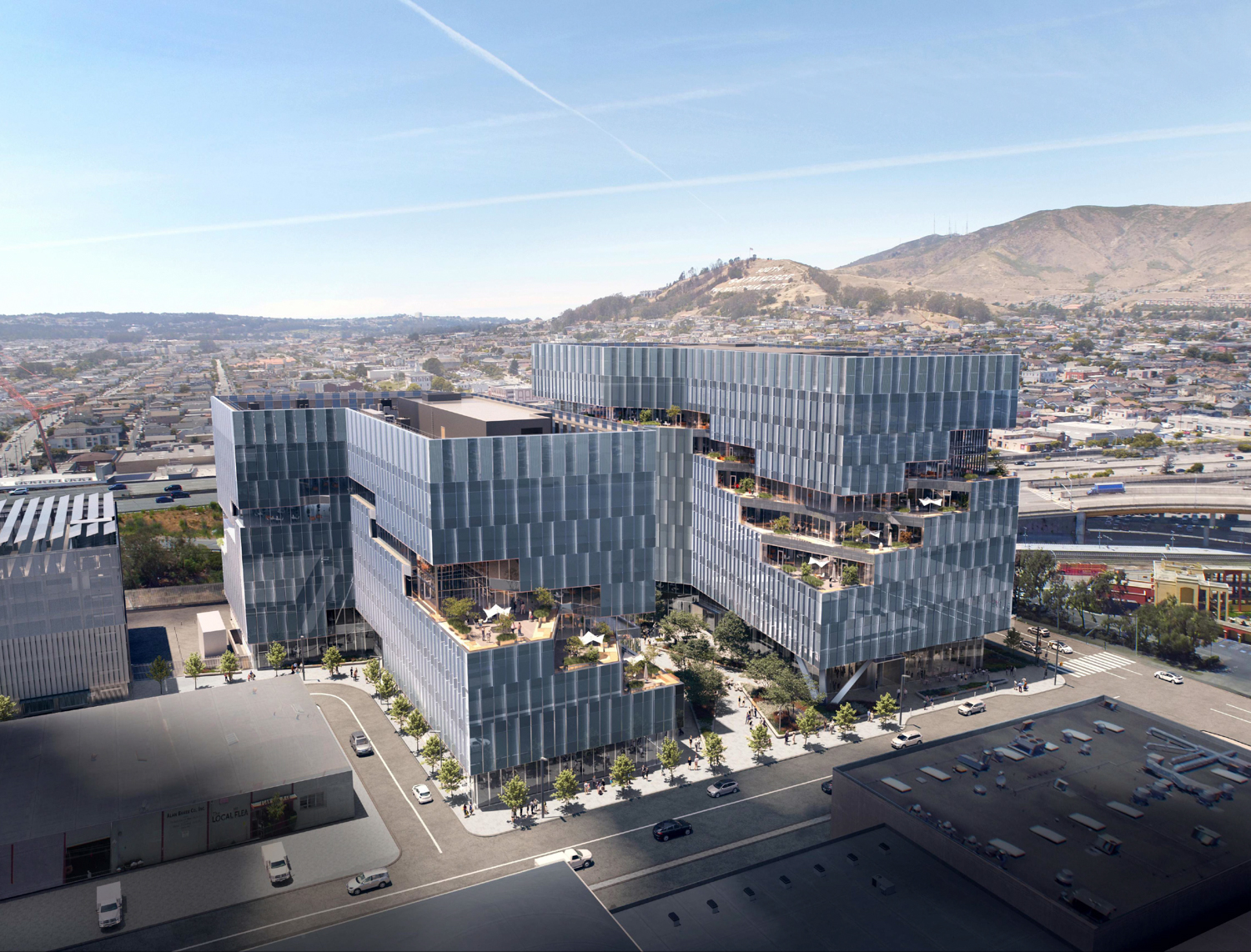 ZGF Architects is responsible for the design. The glassy curtainwall glass will be textured with angled glass panels and vertical louvers. The massing will be divided by a stepped tree-lined terrace program for employees to grab a breath of fresh air on various levels. A set of striking metallic silver-clad pillars will create a visually interesting centerpiece by the Building A lobby. Facade materials will include glass, metallic fins, and metal panel soffits on the visible exterior ceilings. The garage will be clad with aluminum and perforated metal panels.
The project will span over 800,000 square feet, with 541,284 square feet between the two buildings and 261,810 for parking. Additional parking will be included for 155 bicycles. Building A will include 296,830 square feet, and Building B will have 244,460 square feet.
Parking will be included in an eight-story garage structure on the southern end of the building. The structure will span 261,810 square feet with a capacity for 780 cars. Incredibly, the large vehicular capacity is just below the city's recommended parking capacity for 812 cars.
The project will cover just under half of the five-acre lot, located next to the redesigned South San Francisco Caltrain station by Highway 101. The existing site is currently occupied by low-slung industrial structures extending from East Grand Avenue along the length of Sylvester Road to Associates Road.
The distinctive glass-clad building will complement another recently-revealed project at 121 East Grand Avenue designed by Skidmore Owings & Merrill.
BKF has been consulting for civil engineering, Forelli I Elsesser for structural engineering, UMI for mechanical and plumbing, and Atelier Ten for LEED consulting.
The meeting is scheduled to start today, September 15th, at 7 PM. For more information about how to attend and participate, visit the meeting agenda here.
Subscribe to YIMBY's daily e-mail

Follow YIMBYgram for real-time photo updates
Like YIMBY on Facebook
Follow YIMBY's Twitter for the latest in YIMBYnews